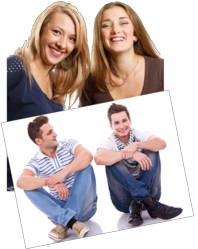 (PRWEB UK) 8 February 2013
Gay.adults.co.uk welcomed the result, saying that it brings a new dynamic to gay dating. Founder of the site Paul King explained: "By matching the marital laws for heterosexuals and homosexuals, online daters will now be able to ask if their potential match is marriage-minded or looking for fun – just like heterosexual singles can. We anticipate gay men and women everywhere will be feeling in a celebratory mood after Tuesday's vote. It therefore seems apt to offer them a platform to do exactly what this law is about – find love and have some romantic fun."
The Commons vote was won by a huge majority of 400 to 175, which has caused rifts within the Conservative Party. Many opponents said that it would change centuries of tradition on marriage, which has been based on one-man-one-woman. However, on research, Gay.adults.co.uk has found that marriage conventions have not been about one-man-one-woman for long.
Marriage Historian and author Stephanie Coontz said: "Through most of human history and in most cultures the most widely accepted tradition of marriage has been polygamy - one man and multiple women. Heterosexuals revolutionised marriage and gay marriage was the next logical step. Gay marriage is actually a natural progression from a momentous change which happened 50 years ago - the death of the male-breadwinner ideal of marriage and a focus on equality between genders. All the things that would have stopped homosexual marriage years ago have now been conquered."
Gay.adults.co.uk is part of the hugely popular adults.co.uk umbrella, which has 1.5 million members worldwide. The site is free to join but replying to messages requires full membership. As part of the gay marriage victory celebration, the site is offering a month free to anyone who signs up to one month membership before Valentine's Day.
For more information on research or for additional quotes, contact sites(at)adults.co.uk