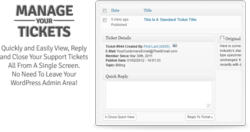 It is a seamless system where customers can open and reply to all, through email.'
Dallas, Texas (PRWEB) February 14, 2013
PluginDynamo.com, the premium WordPress Plugin developer based in Texas releases yet another WordPress Plugin, referred to as Support Dynamo.
Support Dynamo stands apart from all other Support & Ticket Systems with a built-in Customer Interaction Manager (CIM) that allows companies to easily manage the Support Ticket system and customers with ease, and still provide excellent customer service.
The System allows for quick browsing, then view, sort and reply, to support requests without ever having to leave the site or its WordPress admin area.
Visitors simply submit support tickets via Email or through the Customer Support Portal (CSP) which is immediately created once the Support Dynamo Plugin is activated.
This feature then follows up with a Knowledge Management System or KMS that monitors open and closed tickets and generates a knowledge based article from repeated tickets on the same question.This in turn eliminates the need to send customers to a 3rd party site for answers.
William Wesley, Marketing Partner says "With your visitor's information right in front of you, powered by Support Dynamo's very own Customer Interaction Manager (CIM), you or your support team can provide up to the minute, detailed responses to all of your support tickets.
It is a seamless system where customers can open and reply to all, through email."
About
Established in 2010, PluginDynamo.Com is a Dallas based website that focuses on new and original WordPress Plugins that come from internal needs to common WordPress problems and are designed to better serve their customers.