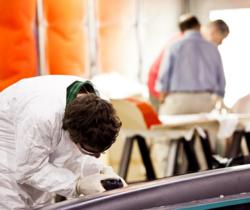 Bristol, Rhode Island (PRWEB) February 08, 2013
Individuals interested in pursuing a career track in the $6.8 billion U.S. composites industry will have a chance to explore training and career options during a February open house at IYRS, a marine trades and technology school based in Bristol, Rhode Island.
The event on Tuesday, February 12 from 4 to 6:30 pm will give career seekers a chance to step inside the school's composites workshop, meet IYRS staff and faculty, and learn more about the program and its career paths. The open house takes place at the school's satellite campus at 253 Franklin Street, in Bristol, Rhode Island—an active hub of the composites industry.
According to findings in a study by global research market firm Lucintel, the U.S. composites industry is poised for growth of 4.3% in 2013. By 2018, expected demand for composite materials in the U.S. is projected to reach $10.4 billion.
The IYRS Composites Technology program trains students for careers in this growing industry. The six-month course teaches students the theory and hands-on practice of working with composite materials, a method of building that produces structures with a high strength-to-weight ratio. Composites represent the next generation of building materials in many industries—including aerospace, construction, boat building, automotive and wind energy. Graduates of the IYRS program have a wide choice of career paths.
Composites students are prepared to sit for certification exams administered by the American Composites Manufacturers Association (ACMA) in four areas that cover different processes and wind blade repair. The program is sponsored by the U.S. Department of Labor, Employment and Training Administration.
The Open House will also give attendees a chance to learn about the school's Marine Systems program, which teaches students to install, maintain, and troubleshoot the onboard systems used on modern and classic boats. The program prepares students to sit for relevant American Boat and Yacht Council (ABYC) certifications, a gold-medal standard in the industry.
Both the Marine Systems and Composites Technology programs are six-month programs that begin each year in March and September.
For more information about the Open Houses or IYRS programs, visit http://www.iyrs.org or contact Admissions Team Leader Holly Ashton at 401-848-5777, ext. 216 or hashton(at)iyrs(dot)org.
ABOUT IYRS: A leading trade school based in Rhode Island, IYRS attracts a diverse, international student body to its three programs in Composites Technology, Boatbuilding & Restoration, and Marine Systems. All programs employ an education model based on a highly technical, craft-oriented learning experience that also teaches important career skills such problem-solving, teamwork, project management and critical thinking. The school focuses on the building arts and sciences across a broad range of materials used in many industries—from wood to state-of-the-art composites. Through a partnership with Roger Williams University in Bristol (R.I.), IYRS students can now apply elective credits toward associate and bachelor's degree programs at the university's School of Continuing Studies. IYRS has campuses in historic Newport and Bristol.