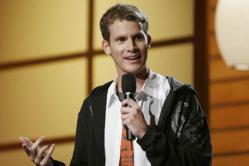 Denver, CO (PRWEB) February 08, 2013
Tickets to see acerbic stand-up comedian Daniel Tosh on tour went on sale today, setting off high volume bursts of search traffic for seats.
Tosh, currently the host of the Comedy Central TV show Tosh.0, has four more shows at the Mirage in Las Vegas on March 22 and 23, and on April 19 and 20. Then, he opens his June Gloom Tour in Salt Lake City on May 30, 2013.
The trek travels to over 25 U.S. cities, including: Cheyenne, Denver, Lincoln, Ames, Cedar Rapids, Peoria, Grand Rapids, Detroit, East Lansing, Toledo, Dayton, Pittsburgh, Cincinnati, Atlanta, Knoxville, Athens, Roanoke, Norfolk, Upper Darby, Baltimore, Washington D.C., Columbia, Orlando, Tampa, Fort Meyers, Miami Beach and wraps in West Palm Beach on June 30, 2013.
"This is Daniel Tosh's fourth tour and his popularity grows each year," said Felina Martinez at online ticket marketplace BuyAnySeat.com. "Even though he has two shows in many of the cities on his tour, some of the performances are already starting to sell out. We still have a great inventory of tickets to choose from, however."
"In fact, we're proud to be able to offer fans the most complete and continuously updated selection of tickets, with a worry-free guarantee to protect their purchase," said Martinez.
"To access the complete selection of cheap Daniel Tosh tickets we now have available, customers can go to BuyAnySeat.com and search for Daniel Tosh – then select their tickets," said Martinez.
Born May 29, 1975 in West Germany, Tosh grew up in Florida. After college in 2001, he broke into the mainstream with a performance on the Late Show with David Letterman. He then followed up with appearances on The Tonight Show with Jay Leno, Jimmy Kimmel Live! and Comedy Central's Premium Blend. He also hosted a local late-night comedy show called Ten and served as a spokesman in Taco Bell commercials.
In 2003 he performed in his own 30-minute special on Comedy Central Presents. Then in June of 2007, Comedy Central aired his stand-up special dubbed Daniel Tosh: Completely Serious. He also hosted an episode of Comedy Central's Live at Gotham.
The comedian's current Comedy Central television show, Tosh.0, premiered in June of 2009. The weekly topical series delves into every aspect of today's online world and features Internet video clips from the totally absurd to the incredibly ingenious. Scheduled for 30 episodes throughout 2013, the series also showcases the comic's unique brand of razor-sharp humor and biting commentary.
His sarcastic, satirical and mocking humor is often characterized as "pushing the envelope" as it frequently features punch lines that are intentionally racist, sexist or homophobic.
Tosh's explanation for his non-politically correct style of humor is: "I'm not a misogynistic and racist person... but I do find those jokes funny, so I say them." (Source: Inside TV/EW.com 01/05/2011)
Tosh's previous tours include Tosh Tour Twenty Ten in 2010, Tosh Tour on Ice in 2011, and Tosh Tour Twenty Twelve in 2012.
To shop for cheap Daniel Tosh tickets, visit BuyAnySeat.com.
About BuyAnySeat.com: An online ticket marketplace, BuyAnySeat.com connects sports, theater and other live entertainment fans to an extensive worldwide network of ticket sellers. The site's simplified listings and navigational tools enable fans to easily locate, compare and purchase inexpensive, discounted or lower-priced tickets to virtually all advertised sports and entertainment events around the globe.
The site, which is PCI-compliant and Norton Secured, also provides customers with a complete Worry-Free Guarantee on all ticket purchases. Based in Denver, Colorado, BuyAnySeat.com is a subsidiary of Denver Media Holdings. For more information, please visit http://buyanyseat.com.