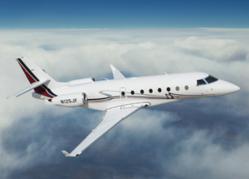 San Jose, CA (PRWEB) February 07, 2013
TWC Aviation today announced that a Wi-Fi equipped Gulfstream G200 is available for charter from Dallas Love Field (DAL), Redbird-Dallas Executive Airport (RBD), Forth Worth Meacham International Airport (FTW), and other Dallas area airports. This nine-passenger, super midsize G200 is the perfect choice for fast, luxurious, nonstop charter flights from Texas to anywhere in North or Central America.
Fresh from a new interior and paint scheme by Gulfstream, this jet features Wi-Fi high-speed Internet access. Passengers can also enjoy their favorite music through the iPod® connection, watch DVD movies on dual monitors, and connect with those on the ground via the satellite phone. The spacious, elegant cabin features executive chairs upholstered in rich tan leather, dark wood cabinetry, and a wonderfully comfortable three-place divan that converts into a twin bed.
Additional amenities include a galley with microwave oven, and an enclosed lavatory with vanity. For a charter quote on this Gulfstream G200, email jetcharter(at)twcaviation(dot)com or call +1.800.538.6070.
About TWC Aviation, Inc.
TWC Aviation provides aircraft management, brokerage, jet charter, and jet card services to clients worldwide. TWC Aviation manages a diverse fleet of more than 50 business aircraft throughout the U.S. and abroad, with offices in San Jose, Los Angeles, and New York. The company's fleet includes jets from Bombardier, Dassault, Cessna, Embraer, Gulfstream, Boeing Business Jets, and Hawker Beechcraft. TWC Aviation is audited by independent safety organizations: IS-BAO, Wyvern, and ARGUS. Aircraft operate under FAA Air Carrier Certificate BZUA138N. TWC also maintains an FAR Part 145 Repair Station certification. More information is online at http://www.twcaviation.com.