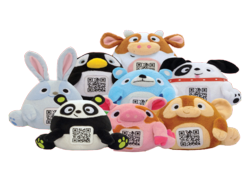 Today's generation of connected kids is rapidly growing, but traditional play is important as well-- Scanimalz offers the right way to combine traditional play with a digital component."
(PRWEB) February 07, 2013
Scanimalz, from Wicked Cool Toys, captures what kids love—cuddly toys, technology and playing games on smart phones and tablets! With more than 30 adorable plush Scanimalz' characters to choose from, girls and boys will love to collect them all and play with them for hours on end. Consumers can simply download the free iOS and Android Scanimalz App to scan the QR codes on the Scanimalz belly to play games, track their collections, earn points and work their way up the leader board! Wicked Cool will debut Scanimalz to media in their Toy Fair booth #2573, Level 3.
"Between the name Scanimalz and the large QR code on their bellies, we're making it easy for consumers to understand that these are scanable animals," explained Ashley Mady, President of Brandberry, the licensor for Scanimalz. "We're owning the scanning theme in every way, from aesthetics, to activation to play pattern".
Kids are encouraged to scan daily via bonus points, extra Scantasy Spins and hidden reveals. Each Scanimalz has different abilities and point value power within each game and there are many ways to collect points. Kids will also delight in learning about the Scanimalz story. Scanimalz are originally from SCANdinavia, frequently have SCANic attacks, are afraid of SCANacondas, like to do SCANnon balls, eat Shrimp SCANpi and make SCANtastic pets!
"Scanimalz offers kids a true, reciprocal experience both in real life and in the mobile world," said Michael Rinzler, President of Wicked Cool Toys. "Today's generation of connected kids is rapidly growing, but traditional play is important as well-- we found the right way to combine traditional play with a digital component."
The Scanimalz App features:

Character recognition/tracks Scanimalz collection
Play one of four games to earn points to make it onto the leader board and then redeem those points to dress up your Scanimalz and make them even more scantastic!
Points are accrued by having the character eat Scanimalz' food or squishing Scanaconda, daily SCANtasy spinz, and by adding to your collection
Series one of Scanimalz will be launched in Spring of 2013. There will be 32 new styles in the first year alone. Rare styles will also be included. Available at Toys R Us, specialty shops and select malls/kiosks nationwide. MSRP: $9.99, ages 3+. For more information, please visit http://www.scanimalz.com
About Wicked Cool, LLC
Wicked Cool, LLC is a Pennsylvania-based toymaker with offices in Pennsylvania and Hong Kong and has a diverse portfolio of playthings for all ages. Founded in the summer of 2012 by veteran toy executive Michael Rinzler, Wicked Cool will develop and bring to market proprietary lines and licensed product, including Teenage Mutant Ninja Turtles®, Scanimalz™, WWE™, The Wiggles®, and Tasty Dough™. Visit http://www.wickedcooltoys.com and follow the Company on both Facebook and Twitter. http://www.facebook.com/wickedcooltoys @wickedcooltoys
For Scanimalz:
http://www.facebook.com/scanimalz
@scanimalz
# # #
MEDIA CONTACTS:
Ida Yenney
GennComm for Wicked Cool
(818)839-1410
ida(at)genncomm(dot)com @GennComm