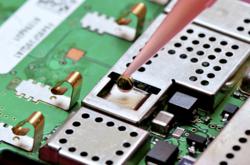 Hackensack, NJ (PRWEB) February 11, 2013
Featuring softness and resilience, Master Bond Super Gel 9 is a urethane modified epoxy gel that can be employed in a variety of applications. Some of the most common include the encapsulation of sensitive electronic parts and sealing optical components. This multifunctional system is also widely used in the aerospace, electronic, optical, electro-optical and other specialty industries.
Super Gel 9 has an exceptionally low Shore A hardness of about 5-10. This softness allows it to be easily repairable making it ideal for retrieving components with a sharp knife or razor blade. It will not shatter during this process. These properties also enable Super Gel 9 to withstand rigorous thermal cycling and thermal/mechanical shock.
This product has a two to one mix ratio by weight or volume, along with a low viscosity and exotherm enabling it to be cast in larger sections up to 2-3 inches thick. Super Gel 9 bonds well to an array of substrates, such as metals, glass, ceramics and many rubbers and plastics. It has a long working life of 7-9 hours depending on the mass that is mixed (the smaller the mass, the longer the working life). It resists many chemicals including water, oils and fuels. The service temperature range is -100°F to +200°F. Super Gel 9 is available in ½ pints, pints, quarts, gallons, 5 gallon container kits and gun dispensers.
Master Bond Thermal Cycling Resistant Adhesives
Master Bond Super Gel 9's low hardness imparts convenient handling as well as resistance to thermal cycling and mechanical shock. Read more about the full line of Master Bond thermal cycling resistant adhesives at http://www.masterbond.com/properties/thermal-cycling-resistant-adhesives or contact Tech Support. Phone: +1-201-343-8983, Fax: +1-201-343-2132, Email: technical (at) masterbond (dot) com.
About Master Bond
Master Bond Inc. was founded in 1976. Our focus has been on developing the best in epoxies, silicones, polyurethanes, polysulfides, UV cures and other specialty adhesive systems. We formulate the highest quality products and offer unmatched technical advice and customer support. Our product line consists of advanced adhesives, sealants, coatings, potting/encapsulation compounds and impregnation resins. Each compound is designed to meet specific application needs and requirements. Master Bond manufactures over 3,000 grades of specially designed formulations.