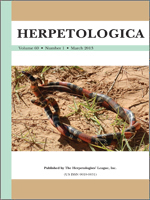 The Black Caiman may have one advantage over the Spectacled Caiman: the smaller species could become a food source.
Lawrence, KS (PRWEB) February 12, 2013
Herpetologica – As the Black Caiman, a relative of the alligator, attempts a comeback from near extinction, its biggest threat is not humans or predators, but another crocodilian. The Spectacled Caiman occupies the same spaces and eats the same foods. This overlap between the two species brings intense competition for food resources.
An article in the journal Herpetologica explores the dietary overlap between these two species. The study was conducted in the Pacaya Samiria National Reserve, an area of the Peruvian Amazon where human influence is minimal. Researchers collected and compared stomach contents of the two species.
Black Caimans, native to the slow-moving freshwater rivers, lakes, wetlands, and swamps in the Amazon River basin, are the region's largest predator and the largest Neotropical crocodilian. Alarmingly, their numbers have decreased by as much as 90 percent since the middle of the last century. Loss of habitat and the value placed on its hide by the leather industry are the most significant contributors to the decline of this species.
During two seasons, 28 Black Caimans and 33 Spectacled Caimans in this study were captured, measured, and their stomach contents emptied using a modified hose-Heimlich technique. In addition to dietary comparisons between the species, seasonal changes in diet and differences in diet of the species at various ages of development were examined. Typically, it was found that these young Black Caimans eat insects and crustaceans while mature ones dine on fish. Their diets did not vary between seasons.
The Spectacled Caiman is a smaller species, maturing at a length of 130 cm compared to 200 cm for the Black Caiman. This makes the Spectacled Caiman more resilient, reproducing at a faster rate—its population growth is four times that of the Black Caiman. The Spectacled Caiman is also very adaptable, moving into habitats left open by the decline of Black Caimans.
The Black Caiman may have one advantage over the Spectacled Caiman: the smaller species could become a food source.
Currently, the Black Caiman is dependent on continued conservation efforts in the Amazon region to survive and once again thrive. This ecological competition between species may be playing a role in slowing the Black Caiman's recovery.
Full text of the article "Dietary Overlap Between Black Caimans and Spectacled Caimans in the Peruvian Amazon," Herpetologica, Volume 69, Issue 1, 2013, is available at http://hljournals.org/doi/full/10.1655/HERPETOLOGICA-D-12-00031
Herpetologica
Herpetologica is a quarterly journal of The Herpetologists' League, containing original research articles on the biology of amphibians and reptiles. The journal serves herpetologists, biologists, ecologists, conservationists, researchers, and others interested in furthering knowledge of the biology of amphibians and reptiles. To learn more about the society, please visit: http://www.herpetologistsleague.org/en/index.php.