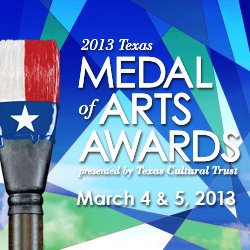 The Texas Medal of Arts Awards recognizes those who have positively impacted the creative culture of the state -- First Lady Anita Perry
AUSTIN, Texas (PRWEB) February 08, 2013
The Texas Cultural Trust is proud to announce Eva Longoria's acceptance of the 2013 Texas Medal of Arts Award for Multimedia, to be celebrated at the Texas Medal of Arts(TMA Awards) in Austin, TX on March 4th and 5th 2013. Longoria, a Corpus Christi native, will receive the Multimedia Award for her work as an actress, author and philanthropist.
The TMA Awards honor great Texans who have achieved success through their creative talents and have enriched the unique culture of Texas. Since its 2001 inception, the Texas Medal of Arts Awards has honored 71 outstanding Texans including Laura Bush, Walter Cronkite, Tommy Lee Jones, Lyle Lovett, Willie Nelson, Robert Rauschenberg and ZZ Top.
Longoria starred in Desperate Housewives on ABC and has been honored with a People's Choice Award and multiple Screen Actors Guild Awards for her work on the show. Currently, Longoria is directing and producing three new television shows and has several feature films coming out this year including "Frontera," "Baytown Outlaws," "Crazy Kind of Love," and "The Dark Truth." A philanthropist, Longoria founded Eva's Heroes, an organization that offers aid for developmentally challenged youth. She also created The Eva Longoria Foundation, which helps Latinas build better futures through education and entrepreneurship. She is the author of "Eva's Kitchen: Cooking with love for family and friends," and a restaurateur boasting Beso in Los Angeles, and She Steakhouse in Las Vegas. Longoria is a graduate of Texas A&M – Kingsville.
Her fellow 2013 TMA Awards Honorees include:
Steve Miller | Music Award
Ricardo Chavira | Television Award
Gene Jones and Charlotte Jones Anderson | Individual Arts Patron Award
James Surls | Visual Arts Award
Joe Sears and Jaston Williams | Theatre Award
Big Thought, Gigi Antoni | Arts Education Award
Houston Ballet | Dance Award
Kimbell Art Foundation | Foundation Arts Patron Award
Texas Monthly | Corporate Arts Patron Award
The event is attended by legislators, philanthropists, and patrons of the arts in Texas. Awards will be presented by Dallas Cowboys owner Jerry Jones, and energy mogul T. Boone Pickens, among others. Individuals planning and supporting the 2013 event include Honorary Chairs Governor Rick Perry and First Lady Mrs. Anita Perry, Lt. Governor David Dewhurst and Mrs. Patricia Hamilton Dewhurst, Speaker Joe Straus and Mrs. Julie Straus, and TMA Awards Co-Chairs Kelli Blanton and Marita Fairbanks.
"The Texas Medal of Arts Awards recognizes those who have positively impacted the creative culture of the state," First Lady Anita Perry said. "People from across the state and from all types of creative expression are honored and celebrated as we cultivate and raise awareness about the arts in our state with the hope of continuing and expanding it for future generations to appreciate, embrace and enjoy."
The 2013 TMA Awards will be a work of art incorporating Texas tradition, contemporary art, and pop culture. The visual and auditory feast will incorporate graphic inspiration from the paintings of award-winning Houston artist Aaron Parazette; engaging installations by performance artists The Art Guys; and live performances by luminaries of the arts in Texas including Ray Benson and more. Pop culture flavor will be imparted by emcee Chris Harrison, Dallas native and host of ABC's The Bachelor. The TMA celebration includes an online auction of a Jesús Moroles sculpture benefiting the Texas Cultural Trust.
About the Texas Cultural Trust
Established in 1995, the Texas Cultural Trust is a 501(c)(3) nonprofit organization that promotes and highlights the importance of the arts in educating our children and sustaining our vibrant Texas economy. The Texas Cultural Trust supports the programs of the Texas Commission on the Arts and other qualifying state agencies. In addition to the biennial Texas Medal of Arts Awards, other programs include: Texas Women for the Arts, Founders for the Arts, Adventures in the ARTS, the Young Masters scholarship program, Art of Economic Development, and an Art & Digital Literacy Curriculum.
The Texas Medal of Arts is presented through the generous support of these sponsors: AT&T, Anheuser-Busch, Texas Monthly, BNSF Railway, H-E-B, Gene & Jerry Jones and Charlotte & Shy Anderson, the Kimbell Art Foundation, Shell Oil, The Virginia & L.E. Simmons Family Foundation, the Texas Tribune; as well as ConocoPhillips, American Airlines, the Argo Group, the Truman & Anita Arnold Foundation, the Blanton Family/Scurlock Foundation, Blue Cross Blue Shield, BP, David Durham, Exxon, Marita and Jonathan Fairbanks, General Motors, Jesús Moroles, LeeAnn & Alan White/PlainsCapital Bank, and Valero.