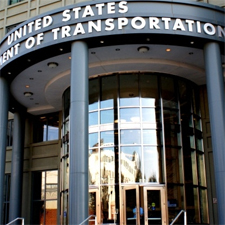 Tysons Corner, VA (PRWEB) February 15, 2013
VHB representatives, Blair Horne and Pam Phillips, were in attendance and had a Virginia Heritage Bank booth at the U.S. DOT Small Business Day: MAPing Your Small Business Opportunities with DOT, hosted by the U.S. DOT Office of Small and Disadvantaged Business Utilization (OSDBU) - http://www.osdbu.dot.gov/. Secretary LaHood and key DOT leadership provided an overview of the recently approved Moving Ahead for Progress (MAP 21) bill, and the potential opportunities that it brings to the small business community. The event also focused on providing information on the latest DOT Small Business initiatives, and gave event attendees an opportunity to network with Federal Agencies, State and Local transportation representatives, and prime contractors.
The US Department of Transportation's Office of Small and Disadvantaged Business Utilization (DOT/OSDBU) was created as part of the Small Business Act (SBA) to ensure that small and disadvantaged businesses are provided maximum practicable opportunity to participate in the agency's contracting process. Pursuant to Public Law 95-507, every federal agency is required to have an OSDBU, which, by statute, reports directly to the head of the agency. The primary responsibility of the DOT/OSDBU is to ensure that small businesses are treated fairly and have an opportunity to compete and be selected for a fair amount of the agency's contracting and subcontracting dollars.
Virginia Heritage Bank, headquartered in Tysons Corner, with total assets of $773 million, serves Northern Virginia and surrounding communities with branches in Fairfax, Gainesville, Chantilly, Tysons Corner and Dulles Town Center. VHB is a full service bank providing an array of retail and commercial financial services.
David P. Summers
703-277-2200
http://www.vhbank.com
http://www.vhbmortgage.com
OTCBB:VGBK
Member FDIC