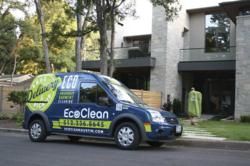 Austin, TX (PRWEB) February 11, 2013
Austin born dry-cleaning alternative, EcoClean, has announced that it will open two new stores in the first quarter of 2013. The new locations are on South Lamar Blvd. and West Anderson Lane. "We've seen that there is a healthy market for our services and are excited to get closer to more communities," said co-owner Mark Hess. "Austin's rapid growth and support of local businesses, together with an increasing awareness of the dangers of dry-cleaning has created the ideal environment for us."
2012 was a year of many accomplishments for the EcoClean team. In addition to growing by more than 15%, we won "Best Dry Cleaner" by the Austin Chronicle Best of Austin reader's Poll and upgraded our process to fourth generation Wet Cleaning technology. We also expanded our free delivery service area and now use a new very fuel efficient delivery van. "We are excited to build on our success in 2012. It was a fantastic year for EcoClean," said co-owner Kevin Bonfield. "We worked hard to create a sustainable business model and positive experience for our customers and staff and it paid off."
"I love working for EcoClean," says general manager Kerstin Shoberg. "It's an Austin-based company with a green mission, healthy work environment and my favorite part, a non-profit partner program that we are all so proud of." PROPS is EcoClean's community partner program designed to support local non-profits and spread awareness of the issues they address. 5% of sales every Wednesday is donated directly to the partner organization.
In addition to green cleaning and community involvement, EcoClean works to promote sustainability throughout their operation. Customers are encouraged to save fuel by using the free delivery service, return hangers for re-use, and opt into the Green Garmento program, a reusable garment bag that replaces the use of plastic dry-cleaning bags.
"We have customers driving in from all over the city to get their clothes cleaned with our method. Our new locations will raise people's awareness of an alternative to traditional dry cleaning. A lot of people I talk to have no idea that there is a better and safer way to get their clothes cleaned," said Hess
On South Lamar, EcoClean will be the latest addition to the expanding SOLA corridor, joining local favorites Birds Barbershop, Mockingbird Home furnishings, and Black Sheep lodge.
At the intersection of Burnet Rd. and West Anderson Lane, EcoClean joins new tenants, Hop Doddy and Precision Camera in the popular West Anderson Plaza Shopping Center.
The production facility and North Guadalupe location will continue business as usual serving as the hub for the rapidly growing free delivery service. EcoClean currently delivers to over 400 homes and offices all over Austin.