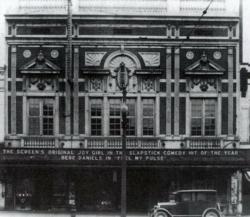 "The Strand is a long standing treasure in our community and we are excited to partner with an organization that has the best interest of our legacy and community needs in mind," said Mayor of Pontiac, Leon Jukowski.
Pontiac, Mich. (PRWEB) February 25, 2013
West Construction Services, a specialist in historic preservation and architectural excellence, and owner and developer the $20 million Lafayette Place in Pontiac, Mich., has purchased a majority stake in the historic Strand Theater in downtown Pontiac. The City of Pontiac is a partner in the project.
Designed by Metro Detroit architect, Leo John Heenan, the Strand Theater opened in 1921 and was one of eight thriving movie palaces that comprised a bustling downtown Pontiac theater district. The sole survivor, the Strand will once again host live theater, musical performances, films and community and private events.
"I feel strongly that through our partnership with the City of Pontiac, the Strand will be restored to its original glory," said Kyle Westberg, CEO of West Construction Services. "We are passionate about working to revive Pontiac's wonderful downtown, and with our track record of successful historic projects we are excited about restoring this historic landmark and providing the community with a venue for creative and performance arts."
In 2002, a $10 million investment was announced to revive the theater; however the project went unfinished and it has continued to sit vacant since 2004. To finish the project, West Construction Services and the City of Pontiac will leverage the $7 million in public funds spent to secure Federal Historic Tax Credits. These federal credits in combination with other grants, tax credits and private equity will provide the funding to fully complete the project and bring the theater back to its glory.
"The Strand is a long standing treasure in our community and we are excited to partner with an organization that has the best interest of our legacy and community needs in mind," said Mayor of Pontiac, Leon Jukowski. "The team at West Construction has a proven record of excellence through their various investments in Pontiac; the community has reaped the benefits of their work with increased community resources, services and now entertainment."
The Pontiac City Council also fully supports the project.
"It's applaudable that West Construction, a Pontiac based company, would secure the deal for the rebirth of the Strand Theater," said Pontiac City Council President, Lee Jones. "This city has gone through many transitions and it's now time for us to celebrate and share in the success stories. We look forward to the day when the grand doors will open to the citizens of Pontiac and visitors from the surrounding communities. It's an opportunity to once again become one of the premiere meccas and showcase what this magnificent structure was built for in the entertainment world of fine arts with plays and musicals in the downtown district of Pontiac."
"We worked with West Construction for months along with accountants and attorneys to identify a way to take advantage of the public funds spent on past restoration attempts of the Strand," said Lou Schimmel, Pontiac emergency financial manager. "It was important to the City to not only find a developer like West Construction to successfully complete the project, but to also make sure it could be finished with the proper financing."
The West Construction Services owned and developed Lafayette Place includes Lafayette Market, a fresh foods market, café and caterer; Lafayette Place Lofts and Anytime Fitness. The one year construction project employed an excess of 300 Pontiac and surrounding community members through the building timeline. Lafayette Market and Anytime Fitness will employ an estimated 75 people in permanent positions.
Renovation of the Strand Theater is scheduled for completion in 2014.
About West Construction Services
Founded in 1995 and based in the historic district of downtown Pontiac, West Construction Services is a leading technology-driven builder and developer specializing in historic preservation, affordable housing and commercial applications. West Construction Services offers comprehensive building expertise and knowhow through services that include real estate development, architecture, interior design, material selection, incentive financing tools, and building code and government process compliance management. For more information, call 248-758-9925.