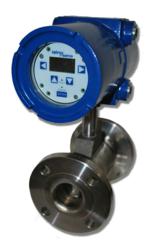 Blythewood, South Carolina (PRWEB) February 09, 2013
The VLM10 Inline Vortex Mass Flowmeter video has been released on the Spirax Sarco YouTube Channel. This video demonstrates how the VLM10 combines an inline vortex meter, a built in flow computer and an integral temperature sensor giving users an elegant all-in-one solution for their metering needs.
Watch this video to gain knowledge on how the VLM10 operates. This product is precise and reliable with a steam or gas mass flow accuracy of ± 1.5% of range over a wide 20:1 flow range. The fully welded, no gasket design, insures safe measurement of steam and allows the flow and RTD sensors to be removed without having to shut down the line first. The built in web server allows customers to monitor flow and meter health through the internet. Digital communications delivers information on demand using Modbus RTU, BACnet MS/TP and Modbus TCP/IP technology with standard analog and pulse outputs.
The VLM10 is available in a wide range of connections and pressure ranges.
About Spirax Sarco, Inc.
Spirax Sarco is the world leader in steam system management. The Company provides a broad range of fluid control products, engineered packages, systems expertise and site services for its diverse range of over 100,000 industrial and institutional customers. The Company helps its customers to optimize production capacity, reduce energy costs and emissions, improve product quality and enhance the safety of their operations. Spirax Sarco has strategically located manufacturing plants around the world and employs approximately 4,700 people, of whom around 1,300 are direct sales and service engineers. Further information can be found at http://www.spiraxsarco.com/us.
###