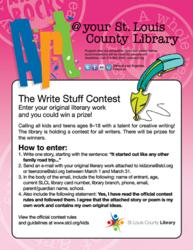 St. Louis, Mo. (PRWEB) February 11, 2013
St. Louis County Library is hosting The Write Stuff, a creative writing contest for kids and teens age 8-18 as part of the Art @ Your Library series. The contest challenges participants to write an original story beginning with this sentence, "It started out like any other family road trip..."
Entries can be truthful, fictional, funny, sad, serious, sarcastic or anything, so long as the writing is original and completed by the entrant. Winners will be chosen from three groups: ages 8-10, ages 11-14, and ages 15-18. First, second and third prizes will be awarded in each of the three age groups. All entrants must have a valid SLCL card. One entry per person.
A list of the official rules can be found online at http://www.slcl.org/kids/writestuffcontest. Entries can be submitted between Friday, March 1 and Sunday, March 31 (close of business.) Winners will be notified by Friday, April 19. Judges' decisions are final.
Art @ Your Library is a continuing program that connects kids with the arts. In the first half of 2013, programs will concentrate on dance, writing and theater. For more information about Art @ Your Library, visit http://www.slcl.org/[email protected] or call St. Louis County Library at 314-994-3300.
###