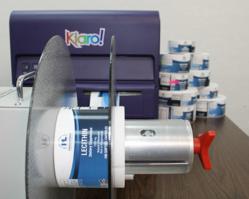 "I love the Kiaro! and I'd recommend it to anybody – it's the easiest printer I've ever used. It makes my job a lot easier."
West Warwick, RI (PRWEB) February 12, 2013
QuickLabel Systems, a brand of Astro-Med, Inc. (NASDAQ: ALOT), released a video about the vertical integration of the manufacturing and custom label printing operation at Progressive Labs, a dietary supplement manufacturer in Irving, TX. The new video can be viewed on the QuickLabel Systems website, on the QuickLabel blog, and on QuickLabel's YouTube channel at Youtube.com/QuickLabel.
Progressive Labs is a vertically integrated manufacturer that develops, blends, encapsulates, and tabletizes its own dietary supplements. The supplement manufacturer now also prints its own custom labels for dietary supplements using the Kiaro! inkjet label printer from QuickLabel Systems.
In the video, several employees of Progressive Labs speak about how their transition to printing their own supplement labels has contributed to their production flexibility.
Larry Thompson, President of Progressive Labs, said, "We have 270 products we manufacture under our own label, and we print those labels in-house. The Kiaro! label printer allows us the flexibility to manufacture our products on the schedule we need."
Thompson said that printing labels in-house with the Kiaro! has helped Progressive Labs to manage labels costs. "With the Kiaro!, we can print our own labels rather than sourcing out the labels to an outside label printer and having to wait on their printing schedule and having to buy a large quantity run to get our label cost down to where we need it."
Progressive Labs makes nutritional support products for healthcare practitioners and their patients, often developing unique formulations for doctors, naturopaths, and chiropractors, and selling private label dietary supplements personalized with doctors' names and the logos.
Ronald La Belle, Creative Director of Progressive Labs, explained how important the Kiaro! label printer is to their ability to offer a high-quality private label program for healthcare practitioners. "The Kiaro! really is a cornerstone of our private labeling system now," said La Belle.
Thompson added, "The Kiaro! offers us that flexibility to print up a very small number of labels as opposed to having to ship those labels to an outside printer. We can customize labels for products that suit the specific needs of our doctors. Without the Kiaro!, we wouldn't be able to offer that service."
La Belle found the reliability of the Kiaro! to be most impressive. "With the Kiaro!, you hit the print button and it prints – first time, every time. And, you have a roll of finished labels that you don't have to worry about," he said.
Greg Dragna, Director of Label Production at Progressive Labs, emphasized the productivity of the Kiaro!. "In the five months that we've had the Kiaro!, we've printed around 250,000 labels. When I first saw the Kiaro! running, I was pretty amazed by the speed of it," he said.
"I love the Kiaro! and I'd recommend it to anybody – it's the easiest printer I've ever used. It makes my job a lot easier," Dragna added.
Progressive Labs' future product roadmap includes developing new products as well as re-formulating existing products. "Without the Kiaro! label printer, we wouldn't be able to make those changes to our product line as rapidly, it would slow down our progress. The flexibility of the label printer allows us to react a lot quicker," said Thompson.
La Belle credited some of their recent sales successes to Progressive Labs' new ability to match label colors, claiming that it has even helped them gain new private label customers.
"The Kiaro! has helped us to bring on new private label customers because they are very concerned with having the labels on their private label products match the labels on their larger-run products – they don't like to see any difference between their long-run and private label products, and the Kiaro! really lets us nail the label colors dead on to the way they're supposed to look," said La Belle.
"You won't see our products on the shelves. Supermarket brands go with cheap ingredients, stuff that isn't bioavailable. Progressive Labs ingredients are literally the best that be sourced. If you want to take our supplements, please ask a healthcare practitioner to recommend them to you," said La Belle. He recommended that interested consumers telephone Progressive Labs at 800-527-9512 or visit http://www.ProgressiveLabs.com to get the name of a healthcare practitioner in their local area who recommends Progressive Labs products.
Progressive Labs is a family-owned and operated company that manufactures over 270 professional-grade nutraceuticals. Their headquarters in Irving, Texas are home to approximately 800,000 square feet of R&D, production, packaging, and warehouse space. The company is GMP compliant, registered with the FDA, and licensed by the Texas Department of Health. In addition to selling its own brand products, Progressive Labs offers private label dietary supplements for doctors, chiropractors, naturopaths, and other healthcare practitioners.
Personalized private label supplements from Progressive Labs are available with a minimum purchase of only 24 bottles per product. For more information about the Progressive Labs, visit ProgressiveLabs.com.
The Kiaro! high-speed inkjet label printer from QuickLabel Systems prints labels at a speed 8 inches per second, in 1200 dpi high resolution, and is priced at less than $10,000 USD. For more information about the Kiaro!, visit http://www.QuickLabel.com/Kiaro.
About QuickLabel Systems and Astro-Med, Inc.
QuickLabel Systems is a leading manufacturer of digital color label printers used by manufacturers and processors who want to print their own labels in-house, as well as barcode label printers, thermal transfer ribbon, labels, and custom label printing services. QuickLabel Systems is a brand of Astro-Med, Inc., a manufacturer of high tech specialty printing systems, and data acquisition systems for test and measurement. Astro-Med, Inc. (NASDAQ:ALOT) is a member of the Russell Microcap® Index. Additional information is available by visiting http://www.QuickLabel.com. Keep up with QuickLabel Systems on Twitter at http://www.Twitter.com/QuickLabel and on Facebook at http://www.Facebook.com/QuickLabel.