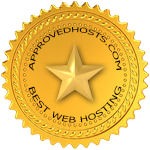 Our goal is, and always has been, to act as if each customer we have is our only one.
(PRWEB) February 12, 2013
ApprovedHosts.com, a leader in web hosting reviews and rankings, released their 2013 web hosting awards last week, and HostMetro.com has taken the award for Best Web Hosting.
Owned and operated by a group of web hosting industry experts, ApprovedHosts.com rigorously tests a number of web hosting companies year round. Their testing categories include hosting price, renewal price, reliability, speed, customer service, support, and a range of other factors. In testing, the professionals go through the sign up process for each host and act as if they are just another customer. The sales and support departments are contacted multiple times throughout, asking both basic and more advanced questions.
HostMetro.com took the award by offering the best web hosting support as well as overall hosting service. With industry leading guarantees, dubbed their "Metro Max Guarantee," Hostmetro.com provides customers with the highest quality support and service. Also included is a promise never to raise hosting prices, which many other hosting companies miss on, offering low initial "promotional prices" only to raise them for renewals.
In receiving the award for the second straight year, HostMetro.com affiliate manager Kyle Dolan expressed gratitude. "It's always nice to be recognized for what you are trying to accomplish as a web host. The number of customers you have can only take you so far. Why have millions of customers if you can't support them properly? Our goal is, and always has been, to act as if each customer we have is our only one." It is this goal that is making HostMetro.com stand out as one of the best shared hosting companies there is.
For more information about ApprovedHosts.com, or to read the full HostMetro.com review, please visit ApprovedHosts.com.