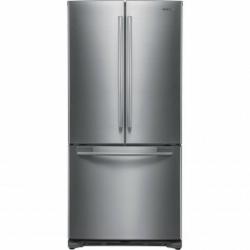 Ballwin, MO (PRWEB) February 07, 2013
Consumers flocked to the convenience and energy saving features of French Door Refrigerators in 2012, according to sales data released by Goedeker's.
In a continued analysis of 2012, Goedeker's announced that nearly 50 percent of refrigerator purchases in 2012 were French Door refrigerators. Of those refrigerators, 38 percent were Samsung appliances. This makes French Door refrigerators Samsung's strongest performing product selection with the online retailer. Samsung appliances took five of the top ten spots in French door refrigerators sold in 2012.
While available options for colors continue to expand, customers have continued to migrate to stainless steel as the finish of choice by a wide margin. In 2012, over 50 percent of new refrigerator purchases at Goedekers.com were stainless steel. This reflects the popularity of stainless steel for its ability to match any color scheme and is easy to clean.
Consumers chose French Door refrigerators for their combination of two important energy saving elements. The double door refrigerator compartment sits above a single drawer freezer compartment. The double door allows the consumer to open one side, limiting the loss of cool air. The pull-out bottom freezer takes advantage of the higher density of cold air, which causes it to sink. As cold air is heavier than warmer room temperature air, more of the cold air stays in the insulated pull-out drawer. This requires less energy to bring a closed drawer back to appropriate temperatures.
The two most popular French Door refrigerators in 2012 come from Samsung appliances. The entry-level Samsung RF197ACRS French Door refrigerator was the second best selling refrigerator in 2012. This unit is popular with those who want the energy efficiency of a French Door model, but lack the budget for more advanced features. For consumers whose budget allows, the more advanced Samsung RF4287HARS was the top consumer choice. This model offers more storage capacity, a refrigerated drawer, external ice and water dispensers, and more. Rounding out the top four selling French Door refrigerators for the year were Samsung models RF4289HARS and RFG237AARS.
French Door refrigerators offer a number of convenience features for consumers. Customers confused by the array of options can visit the Goedeker's Appliance Shopping Guides. As consumer trends evolve, Goedeker's will continue to adapt its website to meet customer demand. New customer service and satisfaction initiatives are being designed to help guide customers through the options available with their appliances.