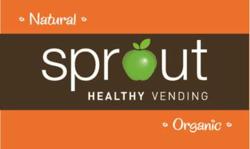 Irvine, CA (PRWEB) February 25, 2013
Sprout Healthy Vending is right on board with the Obama administration's plan to establish nutrition standards for food sold in schools for the 2014-15 school year. In an attempt to not only provide quality, healthy options, Sprout Healthy Vending is determined to work with the USDA to change the mindset of school administrators and students when it comes to nutrition.
Sprout Healthy Vending is considered to be a "Social Wellness" business that benefits communities by providing the largest selection of name brand, natural and organic products-including healthy drinks, snacks, yogurts and smoothies. Menu plans are developed by licensed dieticians to ensure the products in the machines meet even the strictest National, State, and Local nutritional guidelines.
Vending Machines are specifically addressed in the new nutrition rules for foods since they are a leading snack resource in schools. According to the USDA, vending machines are in 67 percent of middle schools and 85 percent of high schools. The popularity of vending machines among students provides a valuable opportunity to replace traditional vending items with healthy ones.
Under the proposal, fat, calorie, sugar and sodium content will be limited in all foods, not just breakfasts and lunches served within lunchrooms. Sprout's standards exceed the USDA nutritional guidelines, banning ingredients like high fructose corn syrup, hydrogenated oils and artificial sweeteners. As a resolution to the concern surrounding high-calorie, sugary drinks, Sprout machines offer natural juices, sodas, teas and other healthy alternatives.
Sprout's Product Nutrition Specialist, Megan Cook, believes that Sprout machines introduce tasty, healthy foods making the transition easily accepted by kids.
"Sprout Healthy Vending surpasses the standards set by the federal government. The products we provide in our healthy vending machines not only meet the guidelines in accordance to calories, fat and sugar-they also ensure that the quality of the ingredients in our natural and organic snack foods are free of the unhealthy ingredients we should all avoid putting in our bodies. We provide children with the tools to make better snacking choices," Cook explains.
Sprout Healthy Vending provides state-of-the-art vending technology, thousands of healthy and organic products and turnkey customer solutions for regional operators. To learn more about the company, locations and products please visit http://www.sprouthealthyvending.com or call (800) 450-7648.