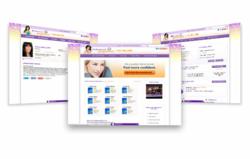 We love our customers and want to give them the best possible user experience and easiest access to top-quality psychic readings.
Langhorne, PA (PRWEB) February 12, 2013
At Hollywood Psychics, the popular psychic service provider, it's all about love. Just in time for Valentine's Day, the new and improved HollywoodPsychics.com gives psychic service seekers even more to adore, with easier management of account activities, more free horoscopes and interactive content, a new Membership Perks Program, and videos, videos, and more videos.
Because users interact with Hollywood Psychics mostly by phone or online chat, "it's important for us to present exciting video content that brings our psychics to life, so to speak," says Maryanne Fiedler, Marketing Director for Hollywood Psychics. "We also have videos of ordinary people sharing their views and experiences in all aspects of life, including romance, relationships, psychic readings, and more," she adds. Ultimately, Ms. Fiedler explains, the Hollywood Psychics experience is all about sharing feelings and aspirations, which is what the new site will encourage visitors to do.
"Our goal is to provide the best overall experience to our customers, including carefully vetted professional psychics, easy-to-access content, and 24/7 availability of psychic readings and customer service," says Ms. Fiedler.
The Hollywood Psychics site upgrade has been a year-long process, involving experts in programming, design, user experience and, of course, psychic readings. And since Valentine's Day is one of the busiest days of the year for love psychic readers, the timing couldn't be more perfect.
****
About Hollywood Psychics:
Hollywood Psychics is an established provider of psychic readings by phone and online chat, appealing to a young professional demographic. Hollywood Psychics experts specialize in astrology, horoscopes, numerology, tarot cards, clairvoyant readings, and many other psychic disciplines. Hollywood Psychics believes in its community of authentic psychics and stands behind the authentic psychic readings they deliver to clients. Visit them online at http://www.hollywoodpsychics.com.
For more information, contact:
Maryanne Fiedler, Marketing Director
maryanne(at)hollywoodpsychics.com
215-953-8568