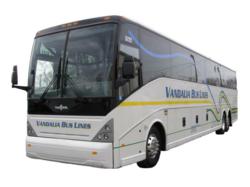 Garden Grove, CA (PRWEB) February 08, 2013
Teletrac Inc.®, a 25-year veteran award-winning GPS fleet tracking and telematics software provider congratulates its long-time customer, Vandalia Bus Lines Inc., on receiving the IMG 2013 Safety Award.
The International Motor Coach Group Inc. presents the award annually to a company that demonstrates the highest level of safety throughout their organization. The award winner not only meets the highest level of federal, state and local regulations but goes above and beyond implementing company safety measures that insures that their employees and customers experience the safest work and transportation conditions possible. Vandalia Bus Lines received the honor at IMG's Maintenance and Safety Forum held in Orlando, Florida in January.
Vandalia has utilized Teletrac's Fleet Director software for over 6 years and continues to leverage the to optimize routes for its vehicles and to monitor unsafe driving behavior such as excessive speed and stop sign violations.
About Teletrac Inc.
Already proven and trusted by more than 20,000 fleets of all sizes and tracking more than 200,000 vehicles in 75 countries, Teletrac's software solution saves fleet owners time, money, and reduces their carbon footprint. Teletrac customers report up to 30% lower fuel usage, an average of 15% less driver overtime, 12% higher productivity and less unauthorized vehicle use.
Teletrac Inc. is headquartered in Garden Grove, CA. For additional information, visit http://www.teletrac.com, call 1-800-TELETRAC, or contact us via email at:
SOURCE: Teletrac Inc.
About Vandalia Bus Lines, Inc.
In 1932, Vandalia Bus Lines, Inc. began its service. The company acquired its name, "Vandalia" from a central southern Illinois community Vandalia, where it initially started. Today the fleet has grown to a total of fifty-nine local and over the road coaches, which include two 12-passenger vans; four 24-25 passenger coaches; two 37 passenger coaches; several 47 passenger local coaches; eleven 49 passenger coaches; twenty-four 57 passenger coaches; and six 61 passenger coaches. The growth of Vandalia Bus Lines, Inc. continues as a result of increased local business that can be primarily attributed to excellent customer satisfaction. For additional information, visit http://www.vblinc.com.
SOURCE: Vandalia Bus Lines, Inc.
About International Motor Coach Group, Inc.
The International Motorcoach Group (IMG) is an association of premier bus companies throughout North America. When you select an IMG company, you get over 2,000 years of combined experience in transportation services for groups of all sizes. These time-honored companies have been not only passed down from generation to generation, but also built on the belief of treating customers like family. We're honored that IMG companies have a reputation for being the most trusted in the industry. For additional information, visit http://www.imgcoach.com.
SOURCE: International Motor Coach Group, Inc