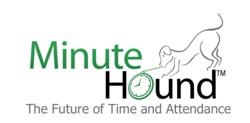 The MinuteHound solution saves retailers time and money.
New York, NY (PRWEB) February 26, 2013
As far as retail business costs are concerned, employee wages are certainly near the top of the list. Retailers who operate their businesses for long hours need to carefully plan their staffing resources to provide the coverage they need. Too many or too few people on the floor can significantly impact customer satisfaction and their profitability.
Retailers of all types and sizes need to accurately account for the time and attendance of an entire workforce. Resource planning and payroll processing are critically important to a retail business. MinuteHound's system is easy to use, simple to operate, and requires no training. No downtime or learning curves to overcome.
Recognizing the need, MinuteHound developed an industry leading time and attendance system that utilizes state-of-the-art digital technology. The goal of MinuteHound is to eliminate the retailers exposures to time theft, employee and union legal challenges, administrative errors and cost, over and under payments and loss of management control. The powerful system empowers retailers to better manage their time, attendance, and payroll accounting processes.
The biometric time clock scanner is where retail employees sign-in and out of work. With just a simple swipe of their finger across the scanner, the employee can quickly update the status of their attendance. The scanner validates the identity of the employee and updates live.
The time clock software is cloud based and designed to efficiently handle payroll processing. Because the data is securely housed in the cloud, retailers need not be concerned in the event of a local disaster. Nothing is ever stored or saved on a local machine, meaning information is never at risk.
The MinuteHound Web Portal is where employees and management can gain access to their information via the Internet. Users can access their personal portal anytime from anywhere with an Internet connected device. MinuteHound's exclusive technology makes it easy for retailers to control and manage their attendance and payroll system. Retailers with multiple locations can easily consolidate the employees data across the enterprise.
The MinuteHound solution saves retailers time and money.
MinuteHound Contact Information
Website: http://www.MinuteHound.com
Email: info(at)MinuteHound(dot)com
Phone: (800) 351-7237