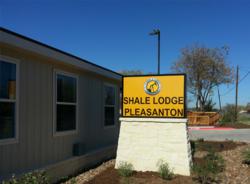 Pleasanton, Texas (PRWEB) February 08, 2013
Shale Lodge Pleasanton, located at 2007 2nd Street in Pleasanton, TX, was completed in September. It can accommodate up to 82 guests.
"Bottom line, we want our guests to be comfortable," says Anand Jobalia, managing partner of Shale Lodging, LLC. To that end, Shale Lodge is decorated with a modern flair. All the rooms have en suite bathrooms, pillow-top mattresses, large flat-screen televisions with satellite and HD channels, free Wi-Fi, personal refrigerators and microwave ovens. Housekeeping is provided, and for long-term guests, a personal laundry service is available.
Most of the rooms are single occupancy, but there are a few doubles and multiple-occupancy suites that can accommodate a small family or crew. The multiple occupancy suites have eat-in kitchens that include full-size ranges, refrigerators and laundry facilities.
A daily breakfast buffet is offered on-site, and there are ample restaurants to choose from within a short distance. "That list is growing, so guests should check with the office to get the current list," says Mahesh Desai, General Manager of Shale Lodge. In addition, guests will be able to use the barbeques that will be the final touches on the landscaping.
Shale Lodge Pleasanton is not only comfortable, but affordable. Rooms start at $99/night, and for long-term group contracts the rates are even better. For more information or to book rooms, contact Mahesh Desai, General Manager, at (830) 569-2800.
Shale Lodging, LLC chose its Pleasanton site because of its location on the I-37 corridor and its proximity to the Eagle Ford Play. Just a half hour's drive south of San Antonio, Pleasanton offers easy access to the larger city for guests to enjoy on their time off. Anand Jobalia explains, "We feel this site has the ideal blend of convenience, affordability, and a family orientation. Pleasanton has a small-town feel that we really connect with, and we hope our guests feel like they've found a 'home away from home' too."
Shale Lodging is also developing sites in Three Rivers, Texas and Hobbs, New Mexico. Shale Lodge Three Rivers will be complete in the first quarter of 2013. Plans for Three Rivers include an on-site recreation room, food services, and laundry. In Hobbs, construction is slated to begin at the end of this year. That facility will serve southeastern New Mexico and eastern Texas, including the cities of Hobbs, Lovington, Denver City, Seminole, and Andrews.
Stay With Us, Feel The Difference: Shale Lodging LLC, with offices in Daytona Beach, Florida and San Antonio, Texas, offers comfortable living quarters for those working in the oil and natural gas drilling industries. It takes pride in creating a relaxed and agreeable living situation for those working far from home and family for extended periods. Shale Lodging's principals have over 50 years combined in the hospitality, construction, and finance businesses, so employers and guests can be sure that a Shale Lodging development is well-built, well-maintained, and well-managed. For more information, visit http://www.shale-lodging.com.