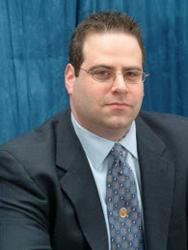 Cross-examination is one of the most important parts of a driving under the influence defense.
Orlando, Florida (PRWEB) February 07, 2013
Criminal Defense Attorney David S. Katz of Katz & Phillips DUI lawyers will be a featured speaker for the 7th Annual - Diving into an OVI / DUI Case CLE Seminar. He will be speaking on February 22, 2013 in Key West, Florida.
The seminar, which features nationally renowned speakers, will take place Feb 21-23, 2013 at Key West's Crowne Plaza – La Concha.
Participants will gain valuable information for handling DUI cases. Anticipated speakers include DUI defense attorneys, experts from the scientific community and former law enforcement officers. Attorneys can also earn CLE credits.
David S. Katz's topic is entitled "Cross Examine Everything – Strategies to Negate the Field Evidence in DUI Cases."
Katz will offer a number of trial-proven strategies for identifying potential conflicts in the evidence and for attacking weak points in the prosecutor's case.
"Cross-examination is one of the most important parts of a driving under the influence defense. A criminal defense lawyer experienced in DUI defense will use demonstrated effective cross-examination techniques to lessen the impact of the arresting officer's testimony and create reasonable doubt of the driver's guilt," said Katz, a founding partner of the Orlando DUI law firm Katz & Phillips, P.A.
Up for discussion at the seminar will be specific lines of attack and questioning, including how to discredit blood, breath and urine testing; how to cast doubt on experts, police witnesses and procedures; how to attack the client's confession or written statement; how to discredit police witness; how to parry drunk driving claims, including field sobriety tests; how to reroute the prosecution's accident reconstruction; and more.
Former Assistant State Attorney Katz has successfully defended thousands of Florida residents against DUI charges.
Katz was recently included by Newsweek Magazine in the magazine's prestigious 2012 Nationwide Leading Criminal Defense Attorneys Showcase. He was also awarded the Martindale-Hubbell's Client Distinction Award for superb client service based on his client's online reviews.
About Katz & Phillips, P.A.:
David S. Katz is a former Assistant State Attorney and County Lead DUI Prosecutor. He has authored or co-authored five books on DUI Defense and is a frequent speaker at local, statewide and National DUI defense seminars during which he teaches other defense attorneys the skills they need to successfully defend their clients.
James D. Phillips is a leading criminal defense lawyer working at the federal and state levels, handling thousands of cases as a prosecutor in Florida. He now brings those skills to the defense of the unfairly accused, with a focus in DUI law.
Katz & Phillips, P.A. can be contacted at their Orlando office at 321-332-6864.