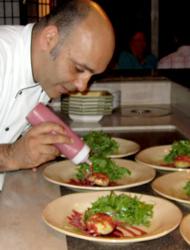 Milwaukee, Wi (PRWEB) February 08, 2013
On Sunday, March 24, 2013 Stillwaters Cancer Support Services will hold its third annual Hospital Food Fight – a "top chef-type" competition combined with a unique, family-friendly and health-focused event. Founder of the IL MITO Brand and Restaurants, chef Michael Feker, will serve as the Celebrity Culinary Chair and emcee.
What: Executive chefs from local hospitals will have one hour to prepare a meal that would be served to patients in their hospital. Meals will be judged on taste, nutritional value, presentation and overall appeal by a panel of four top chefs and food critics from the Milwaukee area. Wheaton Franciscan Healthcare's Elmbrook Memorial Hospital will return to defend the Best Hospital Food title it has earned the last two years.
Who: This event is open to the general public, "foodies," families, cancer survivors and others who support Stillwaters' mission to provide professional counseling and emotional support services at no cost to those affected by cancer. Early bird registration rate of $25 per person expires Feb 24, 2013; thereafter, adult tickets are priced at $35 per person, children 12 years and under are free. All proceeds will benefit Stillwaters' unique cancer support services.
A new addition this year, the "Executive Tasting Table," is offered at $150 per person, with only eight seats available, allows the public the opportunity to taste and score the hospitals' dishes during the Food Fight competition, along with the celebrity chef judges.
In addition to the Culinary Competition, the event will include:

Taste Test Stations: food sampling and demonstrations from food vendors, hospitals, local restaurants, grocery stores and more
Savory Seminars: brief cooking and nutrition sessions from food professionals
People's Choice Award: Honor given to the Taste Test Sponsor that receives the greatest number of votes from ballots purchased by attendees
Children's Area: Get up and Move activities, games and crafts
When: Sunday, March 24, 2013 from 1:00 – 4:00 pm
Where: Country Springs Hotel, 2810 Golf Rd, Pewaukee, WI 53188
How: Attendees are encouraged to register and print tickets online at http://www.hospitalfoodfight.com Check the website for more information or call (262) 548-9148.
The Hospital Food Fight is made possible, in part, by Executive Chef Sponsor: ProHealth Care, and Sous Chef Sponsors, Aurora Healthcare, Orthopaedic Hospital of WI and Wheaton Franciscan Healthcare.
Stillwaters Cancer Support Services is an independent non-profit organization providing professional counseling and support at no-cost to persons with cancer and those who love them. Services include individual and family counseling, support groups, workshops and grief programs.
About Chef Michael Feker
Chef Michael Feker has made it his mission to bring healthy, flavorful cuisine to others. He continues to build his already captivating legacy by beginning a new adventure, an expansion of his IL MITO brand, as he opens IL MITO East, an Italian restaurant located in downtown Milwaukee. In addition to his restaurants, Chef Feker acts as an ambassador to the culinary arts at his state-of-the-art Culinary Studio/Chef's Counter, CMFs School of Culinary Magic, located in Milwaukee's western suburb of Wauwatosa. Chef Feker also works as a culinary consultant to Wisconsin's Largest Healthcare Provider, Aurora Health Care, assisting them in revamping and reviving their culinary techniques and practices to bring fresh and pure foods to both patients and staff, and to hospitals in general. Chef Feker's passion for fine cuisine mixed with unique flavors gives him an indescribable talent and desire to share and teach others about cooking. His new restaurant is the most recent accomplishment for Chef Feker, who introduced his famous IL MITO brand to Milwaukee in 1997.