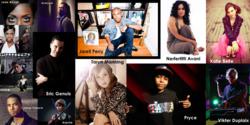 From Micheal Jackson's nephew an incredibly talented vocalist and songwriter Austin Brown to the late Amy Wineshouse's best friend Juliette Ashby lead the way of musicians to watch in 2013.
Los Angeles, California (PRWEB) February 08, 2013
From Micheal Jackson's nephew an incredibly talented vocalist and songwriter Austin Brown to the late Amy Wineshouse's best friend Juliette Ashby leading the way of the musical list of featured musicians to watch in 2013; Kenalsworld LLC have featured some of the most captivating rising, breakthrough and independent musicians on the world of music, art and photography blog. Among the featured musicians on the site fall these top 10 musicians to watch for in 2013.
#1. Austin Brown
Soul, Class and Musical demonstration is what Austin Brown represents as well as delivers through all of the music that he releases. The 27-year-old musician, singer, and songwriter currently located in Los Angeles, California over the past few years have really been getting a lot of ground work done. Listen to one of his many hot records "City Of Angels".
#2. Jade Novah
Jade Novah born under the name Lindsay Fields from Cleveland, Ohio delivers something unique, fresh, classy and captivating in establishing a major fan base in the music industry. Her persona is also reflected by her stage name. According to her website "Jade, embodying femininity, positivity and love, represents her softer side, Novah (which is an exploding star) represents her exciting, confident, and at times, loud side." Listen to Shades of Jade on Kenalsworld.
#3. Rachel Potter
The following musician Rachel Potter is an incredible country recording artist and Broadway star that is not afraid to dream. With a released promotional song that have gained much attention entering the year of 2013 leading to many more great achievements this artist brings quality and a captivating persona to the country music scene. This country beauty sings "Live the Dream".
#4. Juliette Ashby
Juliette Ashby was born and brought up in north London in the suburbs. Her first encounter and introduction to music began at just 6 weeks old and when she was taken to a Stevie Wonder concert. On her website she mentioned "You see I was one of those babies who just cried all the time. My mum was a huge Stevie fan and she was given tickets to his London concert. She really didn't want to leave me at home crying, so she bundled me up and took me with her. I know that decision really paid off; hearing Stevie's soulful tones at such a tender age got into my very being and has stayed with me through my life…. I was hooked." Juliette was also best friends with another great musician called Amy Winehouse that shared a similar sound that lures many around the world.
#5. Tess Henley
The female musician and talented vocal and instrumental artist Tess Henley brings one back to a sound in R&B/Soul music that is not as widely praised as it used to be. A much more modern sound and version of Aretha Franklin, Jill Scott and the Faith Evans used to deliver in music.
#6. Baiyu
Musicians come from all over the world. Baiyu is a songstress with Chinese background originally from Xiamen, China. Entering 2013 with a single entitled "Again" the talented songstress looks to rack even more followers and fans. Her multiple talents surely contribute to why majority of the music by this musician for most part always sound like a ballad filled with emotion expressed through her vocals.
#7. Omar Wilson
When someone mentions the names Luther Vandross, Charlie Wilson, Johnny Gill, and Gerald Levert the thought of a strong R&B voice would generally come to mind. All of these musicians are among some of the soulful artists that are admired for their unique and distinct voices. Omar Wilson is also a male vocal powerhouse when it comes to the root and foundation of rhythm and blues.
#8. Jarell Perry
Jarell Perry is an artist out of Los Angeles and is an amazingly talented singer/songwriter. Some of whose most recent credits include penning Fat Joe's latest comeback single featuring Chris Brown, "Another Round." Now looks to establish a major presence as a singer and breakthrough musician.
#9. Pryce
Even though music is a big aspect and part of the young stars life he is not a stranger to success. Having appeared in movies that starred Betty White, Cuba Gooding Jr. He played roles both in the Cuba Gooding Jr. CBS Hallmark film "Firelight" as the lead actor's son and in the movie "The Lost Valentine" with Jennifer Love Hewitt . The multi-talented artist is already making a statement through film work and it is only a matter of time before he is climbing the billboard, itunes, and Amazon charts for his music.
#10. Kenal
Born in Haiti and raised in West Palm Beach, Florida. Kenal began singing at the age of 6, following his brothers and sister who would always sing around him and in church. He started writing poetry and songs at the Age of 14. Kenal have written over 100 songs (rock, pop, hip hop, r&b, gospel), along with many poems. However, he is among the most versatile musicians breaking through the music scene in not only music, but visual art, design, photography, business and more.
Visit the featured musicians section on kenalsworld.com to read more about these following musicians on the Kenalsworld blog of art, design and music.
KENALSWORLD LLC
Eden Louis
Co-Founder & Writer
Tel: 561.351.9224
Email: info(at)kenalsworld(dot)com
Web: http://www.kenalsworld.com
DON E PRODUCTIONS
Donnie Osborne
Founder & President
Charity: DP Outreach
Skype: doneozz
Cell 203-613-3950
Email: d.osborne(at)doneproductions(dot)com
Web: http://www.doneproductions.com