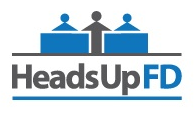 "There is no reason why all hotels should not move to this ASAP. It's probably one of the best technologies to come to the front desk in the past ten years. We love it!"
Chicago, IL (PRWEB) February 07, 2013
With MIS Computer's release last year of HeadsUp FD, international demand is now being seen from locations as far and wide as the Bahamas, the West Indies, Mexico, Europe and Asia. With this growth, MIS Computer officially announces the launch of their HeadsUp FD software solution to its international customer base.
Peggy Clark, VP of Sales and Marketing for HeadsUp FD states, "Adding to our excitement on the international front is the fact that several of these hospitality customers include casino facilities as part of the overall project scope and as we have anticipated, there is a clear and distinct business case in the casino environment for HeadsUp FD in the pit stands, cage and concierge, among others. The casino environment is subject to the same data security compliance requirements as the hotel front desk and suffers from many of the identical workflow challenges experienced in shared computer environments. We are extremely pleased to be delivering value at the international level."
HeadsUp FD is a proximity badge login and logout solution for front desk agents. Instead of manually logging in and out of a workstation, a front desk agent taps a proximity badge on an RFID reader connected to the workstation via USB connection. In many cases, these proximity badges are already part of the hotel's IT infrastructure and in use by hotel staff for building access, time and attendance and cafeteria and often the existing badges are compatible with the HeadsUp FD solution. In many instances front desk managers have their staff connect their proximity badges to a retractable lanyard connected to their belt or vest which further promotes PCI compliance and convenience to the user. The solution focuses on a combination of security and data privacy along with speed and convenience for users at the front desk, key areas of focus for both IT and Director of Rooms.
MIS Computer CEO, Neal Berz, states, "The technology behind HeadsUp FD is the same technology used for the mission critical needs of doctors and nurses when accessing confidential patient information in hospitals and emergency rooms. For years we have seen the front desk struggle with many of the same issues. Well now we offer a proven solution, using the same technology used in healthcare IT, and it is delivering the value and results our customers have come to expect."
About MIS Computer/HeadsUp FD
Founded in 1982, MIS Computer is a global reseller of software, hardware and networking equipment, delivering innovative technical solutions and support for the hospitality industry, gaming, healthcare and other corporate accounts. For more information on HeadsUp FD's proven security compliance and workflow solution, visit: http://www.headsupfd.com