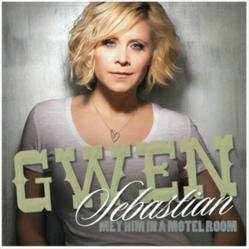 It's very exciting to speak with entertainers like Gwen, when you know their career is about to explode
Nashville, Tennessee (PRWEB) February 09, 2013
Country Music Artist Gwen Sebastian will go one on one Music City Social's Drew Bourke tomorrow night at 6 o'clock. Gwen will talk about everything from how she started in the music business, to her experience on the television show "The Voice," to recording her new album.
During Gwen Sebastian's time on "The Voice," Blake Shelton took liking and gave Gwen a chance to sing back-up on his tour. She also sang the National Anthem for the New York Yankee's in 2010.
The 37 year-old musician from North Dakota started her professional singing career here in the Music City when she signed a formal recording contract with Lofton Creek Records in 2009, and released two singles, "Hard Rain" and "V.I.P. (Barefoot Girl)."
"We were lucky to get time with Gwen during this very busy period in her career. It's very exciting to speak with entertainers like Gwen, when you know their career is about to explode", according to Music City Social's host and producer, Drew Bourke.
Gwen Sebastian is currently managed by Flying Island Entertainment. She has a new album scheduled for release in June 2013.
Music City Social gives you an insight about artists and the Nashville music business; spoken by the people in the industry themselves. Host Drew Bourke has lived in Nashville for over twenty five years, where he has both played drums for many country music artists, and owned and operated Inner World Recording Studios where many of Nashville's top-songwriters chose to record their demos.
Listen to Drew Bourke's interviews with many of Nashville's upcoming and established music artists every Thursday at MusicCitySocial.net, or download the Music City Social program at iTunes, Stitcher Radio and YouTube.
For more information, visit http://MusicCitySocial.net.