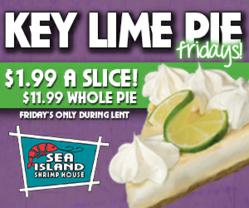 We are resolute in providing the best product each and every day at Sea Island, and believe you can taste it," said Barclay Anthony, Sea Island CEO.
San Antonio, TX (PRWEB) February 11, 2013
Sea Island Shrimp House is making plans for the crowds coming in to dine on Fridays throughout the Lenten holiday. They will be offering their delicious homemade Key Lime Pie for just $1.99 per slice. The limited time offer begins Friday, February 15 and runs through Friday, March 29 at all six San Antonio area locations.
Baked daily in the restaurants, Sea Island's Key Lime Pie features a crunchy graham cracker crust and the perfect pairing of key limes, cream and farm fresh eggs, and is a fantastic finale after a delicious Sea Island meal. Sea Island's made-from-scratch Key Lime Pie is so popular, the restaurant prepares approximately 2,500 pies each year for their guests.
Guests are invited to dine on Fridays during Lent to enjoy deliciously prepared appetizers, such as our coconut shrimp and hushpuppies, six butterfly shrimp, breaded in coconut and fried till golden. Or maybe a refreshing Ceviche; poached fish, diced avocado, onions, jalapeños, tomatoes, cilantro, lime juice, salt and pepper blended till it tastes just right. From peel-your-own shrimp, Texas Gulf oysters on the half shelf, onion rings, there are so many options made available to you at affordable prices.
Sea Island has been voted Best Seafood Restaurant in San Antonio by the Readers' Choice Awards presented by the San Antonio Express-News since 1999.
About the company:
Sea Island Shrimp House, a San Antonio icon, has been sourcing and serving the freshest, wild-caught Texas Gulf seafood since opening their first location in 1965. The restaurant's family-friendly atmosphere, delicious food and affordable prices have made this a San Antonio favorite for more than 47 years.
Family owned and operated from the beginning, the six San Antonio locations serve only premium seafood that feature scratch cooking and a passion for flavor and value. Sea Island Shrimp House is known for the best shrimp and varieties of fresh seafood. For more information on their menu, seafood specials, and kids meals, visit their website at http://www.shrimphouse.com. Sea Island Shrimp House and Tiago's Cabo Grille are local seafood restaurant brands of Sea Island Development Company.