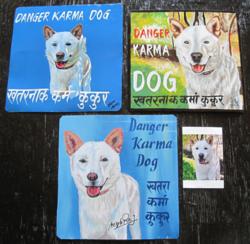 Which portrait would YOU choose?
Santa Monica California (PRWEB) February 08, 2013
"DANGER DOGS – Folk Art from the Himalayas" is the creation of Michelle Page of Santa Monica, who became intrigued by hand-painted metal "Beware of Dog" signs adorning gates in Nepal. She decided to promote a fair trade art project featuring these charming paintings and save a dying art form.

Danger Dogs are custom enamel portraits of dogs on metal signboards, approximately 1'x1'. Made in Nepal by 58 different artist studios, these signs range from primitive to photo-realistic. Each is a hand-painted original work of art, signed by the artist. Michelle has commissioned over 2400 signboards to date – making a difference in these artists' lives. A commissioned portrait of a pet ranges from $250 to $400. They retail in museum shops for $200 to $300.
Each commission generates 3 portraits of a pet, giving 3 Nepali artists fair trade work and pet lovers 3 choices. Micro-finanace through art patronage.
John Walsh, Director Emeritus of the Getty (1983-2000) has written: "I have been so delighted by these paintings that I've bought four of them recently. Michelle has found a whole subculture of self-taught artists living in dodgy circumstances in Kathmandu and brought their delightful work to the West. All of them have fluent Nepalese warnings and delicious almost- correct English subtitles. There is a lot of sophistication here.
"American Dogs = Nepali Jobs". This project is about keeping the artists' dignity and giving work to the artists -- keeping hand-painted art as a viable profession in this digital age.
Michelle decided to open a business in 2007 after noticing inexpensive digitized computer-generated graphics were beginning to replace hand- painted signs. She feared the art and expertise the artists employ would soon be lost to modern technology. Through her efforts, Michelle is effectively saving their livelihoods, one "Danger Dog" at a time to the delight of pet-lovers everywhere.
The signs are available for purchase at the Craft and Folk Art Museum shop in Los Angeles, and at the Santa Monica Museum of Art as well as on line. They are also available at shops in West Hollywood, Los Angeles, Santa Monica, Cambridge, Manhattan and Seguin, Texas.
Please go to http://www.NepalDog.com to see the full range of Nepal Art Dogs currently available.