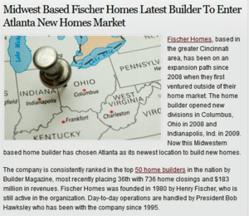 Atlanta, GA (PRWEB) February 08, 2013
Atlanta Real Estate Forum recently announced that Cincinnati based builder, Fischer Homes, has chosen Atlanta as its newest location to build homes, most likely with a focus on first move-up buyers. Consistently ranked as one of the top 50 home builders in the nation by Builder Magazine, the company most recently placed 36th with 736 home closings and $183 million in revenues.
Fischer Homes was founded in 1980 by Henry Fischer, who is still active in the organization. Daily operations are handled by President Bob Hawksley, who has been with the company since 1995. In recent years, the builder has been on a pattern of growth outside their home market. First expanding in 2008, Fischer Homes has ventured outside of their base market of Cincinnati with new divisions in Columbus, Ohio and Indianapolis, Ind.
Home building veteran Barry Gittleman, formerly of John Wieland Homes and Centex, will lead operations in Atlanta as the new Division President. Gittleman is a graduate of the Naval Academy and received his M.B.A. from Harvard.
As the builder moves toward opening its first new homes in Atlanta, which will be located in West Cobb, South Forsyth and Roswell, Fischer Homes has begun advertising for both sales and construction managers.
Fischer Homes has built more than 17,000 homes, and its offerings include everything from condominiums for first time buyers priced in the $90,000s to single family homes for the second move up and relocation market priced in excess of $600,000.
For up-to-date details regarding Atlanta real estate, visit our Atlanta real estate blog or get instant notifications by liking our Facebook page at http://www.facebook.com/atlantarealestateforum.
About Atlanta Real Estate Forum: Atlanta's favorite and award-winning real estate blog, Atlanta Real Estate Forum, is dedicated to promoting Atlanta real estate trends and news. The blog promotes news of interest to consumers and industry insiders from community grand openings, model homes, amenities and more. Atlanta Real Estate Forum is owned and published by mRELEVANCE, LLC, a marketing, communications and interactive agency. For more information, visit http://www.AtlantaRealEstateForum.com.
# # #