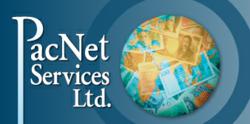 Ecommerce is growing at a considerable rate and I'm hoping to connect with those companies who have their eye on international markets at The Great Ideas Summit
Vancouver, BC (PRWEB) February 07, 2013
PacNet Services, an international payment processing company that specializes in the direct commerce space, is busy making plans to attend ERA's Great Ideas Summit 2013, February 25 – 27 in Miami, Florida. The event draws a very senior-level crowd, with 75 percent of attendees at a director-level or higher. PacNet will be there to meet with and advise ecommerce companies who want to expand into international markets.
For nearly two decades, PacNet has been providing the latest in cutting edge payment processing for credit cards, direct debit, EFT, ACH checks, and bank transfer collection in markets worldwide.
"This year definitely marks a watershed for PacNet, where ecommerce volumes will far exceed the number of transactions processed for other business types" notes Brendan Mahar, VP, Sales and Business Development, for PacNet, "Ecommerce is growing at a considerable rate and I'm hoping to connect with those companies who have their eye on international markets at The Great Ideas Summit. PacNet's consultative approach and extensive experience in the direct response industry make us a valuable partner for ecommerce companies who want to navigate the challenges associated with international and reoccurring transactions".
Nearly 900 marketers are expected to attend The Great Ideas Summit, produced by the Electronic Retailing Association (ERA), the only trade association in the U.S. and internationally that represents leaders of the direct-to-consumer marketplace, which includes members that maximize revenues through electronic retailing on television, online and on radio.
About PacNet:
PacNet offers a complete suite payment services for ecommerce, affiliate marketers, direct mailers, publishers and more. Some of the payment facilities offered by PacNet include international merchant account s, check processing, credit card processing in 130 currencies, direct debit, EFT, ACH and bank transfer collection from the US, UK and around the world.