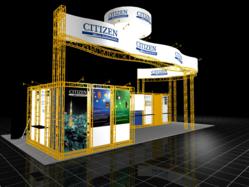 We received outstanding service and design and were still quoted a lower price than anywhere else we inquired.
Des Moines, Iowa (PRWEB) February 08, 2013
Trade show booths that stop traffic and start conversations that lead to sales are the specialty of the 3Din2.com company. The company's over 30 years of experience in the design and manufacture of trade show booths can be seen in the spectacular exhibits commissioned by numerous major corporations and government agencies, including GMAC, Dollar Rent-A-Car, Goodyear Tire, NASA, and many other prominent organizations.
Yet, despite the company's success and expertise, it still is known throughout the industry for its no-cost, customer-first policies. These include free phone consultation (1-888-525-8103), no-cost CAD (Computer-Aided-Design) services, and two-hour turnaround for prospective designs – services virtually all other booth houses considerable billable charges. The newest addition to the company's customer-focused efforts is its new website, 3Din2.com. The site is a storehouse of practical knowledge that even regular trade show exhibitors can use to improve both show-traffic and corporate image.
3Din2.com projects have included two-story booths that tower over and dominate a trade show floor, the sales-power and convenience of private-screening and consultation rooms, and much more. The often elaborate nature of their projects can exceed $50,000. Yet they still proudly and frequently design and construct attractive and highly-functional show displays beginning as low as $799.
Still, it is the larger exhibits that attract the most attention and draw comments that range from "Utterly amazing" to "Just look at that booth - I've never seen any thing like it" from even veteran trade show exhibitors and attendees. Timothy Bourke, vice president, Super Rope Cinch LLC, quickly puts in perspective the industry-wide respect, and sometimes envy, that the company has earned: "Chad and Bob's thirty-plus years of experience in building high-end trade show booths become evident the moment you begin the design phase," observes Bourke. "We received outstanding service and design and were still quoted a lower price than anywhere else we inquired. I only wish that all purchases we made as a company involved this high-level of customer service."
Founded in 1982, 3Din2.com is a division of Midland Display. The company is headed by Robert Albright, president, and Chad Leiffert, sales manager. Administrative offices are located in Des Moines, Iowa. Sales offices are located in Des Moines and Kansas City, Kansas. Its free consultation services are available by calling 1-888-525-8103.