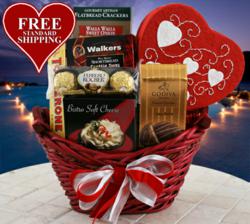 Long Beach, CA (PRWEB) February 08, 2013
There are many stories of who St. Valentine was. One indicates Valentine was a priest that defied the law by marrying young men to their lovers in secret. In another story, Valentine was jailed for helping Christians escape Roman prisons. When the jailor's daughter visited, Valentine fell in love with her and wrote her a greeting signed "From Your Valentine." No matter which story is true, in the end, Valentine was killed and became a martyr associated with love and romance.
Van's Gifts wants to hear all the romantic stories associated with Valentine's Day. Facebook fans are encouraged to submit a short story or description of a most romantic experience. All stories must be submitted no later than 9:00 a.m. PST on Tuesday, February 12, at http://www.facebook.com/pages/Vans-Gifts/200468877941 to be considered. The winner will be chosen and announced on Tuesday, February 12. Van's Gifts will ship a Darling Hearts basket for the winner to be delivered on Valentine's Day.
Even if there is no romantic story to share, Valentine's Day is the perfect day to love one's self and the people in one's life. So go ahead, reach out to best friends and beloved family members to let them know how much they are loved. Receiving gifts at the office where one's co-workers can observe is a great way to show affection publicly. Appropriate for sending to significant others, friends and family members in commemoration of Valentine's Day are gift baskets or towers containing food, chocolates, champagne or wine and other special treats.
Gift baskets and towers can be customized to fit any budget. The newest trend is to use high quality crates, totes, trays, trunks, dishes and more that will be useful to the recipient long after the treats and gifts inside are gone. The gift tower or basket should match the styles and tastes, and contain adequate portions for the person or persons receiving it. The food and wine should be of the highest quality so that from the ribbon and packaging used to trim it, to the gifts inside, the wow continues as the recipient opens each container in the perfect basket or tower.
Van's Gifts has made it simple to obtain unique Valentine's Day gift baskets and towers by simply clicking. Van's offers spectacular choices including champagne gift baskets for romantic candlelit dinners, and luxurious spa gift baskets for a relaxing night. Each basket or tower is artfully arranged by hand in a high quality keepsake container decorated with a custom made bow. Van's Gifts' taste team selects only the best varietals from the wine country regions, ranging from Napa Valley to the hills of Tuscany to the rustic vineyards of Chile, and beyond. They are proud to include gourmet foods of the highest quality as found in publications like Sunset, Bon appetite, and Wine Spectator.
They encourage readers to visit Van's Gifts website at http://www.vansgifts.com to order Valentine's Day gifts and take advantage of their free shipping offer. Van's Gifts has selections for wine connoisseurs, chocolate lovers and more. With over 25 years of knowledge and experience, they provide only the best service and products in the gift giving industry. They deliver a first-class experience with every gift guaranteed.