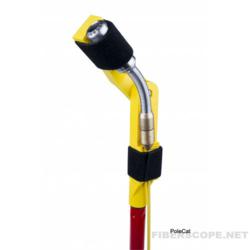 what I like most about it is that the PoleCat fits any telescopic pole available from a local construction store. Besides, I can set the camera at any angle I need for a better view
(PRWEB) February 11, 2013
Chimney inspection video cameras have become very popular for inspection of chimney surfaces. They are convenient for small diameter chimneys, old stone chimneys in unknown condition, to apply for safety certificates, etc. Chimney and fireplace systems need video inspections as much as other ducts or in the buildings.
PoleCat is one of the skids that help to improve the performance and versatility of your push camera. PoleCat is manufactured of heavy duty materials, and fits most telescopic poles. At that, they protect the camera head from accidental damage, scratches, etc.
Medit offers a new and cost effective solution for inspection of ducts, chimneys and fireplaces. Contractors, who seek the best solution for their needs, now can choose Medit's Viper push camera with PoleCat. Viper push camera has a semi-rigid 20, 35 or 40 meter long probe, a powerful light source and a sensitive video camera with sapphire glass lens. Adding the PoleCat allows using a long pole to support the camera. And it is a very important feature: generally chimney inspection cameras have a soft cable allowing using them only from the roof level downwards. However Viper push camera with the PoleCat can be used from both levels: roof and ground, upwards. One of Medit's customers, a chimney maintenance contractor in Virginia says: "This is an extremely handy tool, and what I like most about it is that the PoleCat fits any telescopic pole available from a local construction store. Besides, I can set the camera at any angle I need for a better view."
Viper push camera with PoleCat is the best solution due to its easy design and very reasonable price, considerably lower than typical prices for these kinds of devices on the market. Besides, this set provides versatile usage for any, even complicated air duct, chimney or fireplace shape or design.