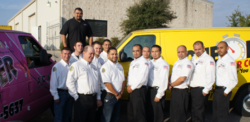 "This move allows our companies to help more homeowners stay cool during the hot, Texas summers. We're really excited about the possibilities." - Elmer Zubiate
San Antonio, Texas (PRWEB) February 08, 2013
Two of San Antonio's top air conditioning and heating companies are merging operations to better serve homeowners in south Texas and the Hill Country.
San Antonio businessman Elmer Zubiate, owner of On Time Elmer, has acquired the San Antonio franchise of One Hour Heating and Air Conditioning. The two companies have merged under the new name of Elmer's One Hour Air.
"This move allows our companies to help more homeowners stay cool during the hot, Texas summers," said Zubiate. "We're really excited about the possibilities."
On Time Elmer has a long history of philanthropy in the San Antonio area that will continue under the Elmer's One Hour Air name. The company is a major supporter of Komen San Antonio and the fight against breast cancer. In fact, On Time Elmer was known for its pink trucks. It's a mission close to Zubiate's heart. His mother died from cancer in 2008.
"Our community support, particularly the support of Komen San Antonio and the fight against cancer, is not going away with this merger," said Zubiate. "Just because the Elmer's One Hour Air trucks are yellow doesn't mean our support has diminished in any way."
(Elmer's One Hour Air is a San Antonio-based air conditioning and heating company which specializes in new AC installation and AC repairs. It is located at 13111 Lookout Ridge Ste. 1, San Antonio, TX, 78233. Elmer's One Hour Air can be reached at (210) 782-8550.)