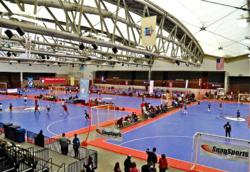 Each year SnapSports® continues to prove that they are the industry leader in athletic surfacing, designing and manufacturing cutting edge products that far surpass the competition.- Alexander Para, President U.S. Futsal
Salt Lake City, Utah (PRWEB) February 11, 2013
February 11, 2013 – SnapSports , the industry-leading manufacturer and supplier of modular sport surfacing and the official sports flooring of the 'United States Futsal Federation' (USFF), will be providing the official Futsal courts for the 2013 Northeast Futsal Regional Championship, in Wildwood New Jersey, February 16-18.
"Everyone at SnapSports® loves the sport of Futsal® and are proud to once again be chosen as the only approved sport surface able to meet the high-performance demands of Futsal competition by the USFF, " says Jorgen Moller of SnapSports.
SnapSports athletic floors and courts are engineered specifically for all weather durability and performance. Whether matches are played indoors or out, SnapSports surfacing will perform at the highest level, ensuring both unmatched safety and performance.
"Each year SnapSports continues to lead the industry in modular sports floors and outdoor game courts; designing and manufacturing cutting edge products that far surpass the competition." – Alexander Para, CEO, United States Futsal.
The Northeast Futsal Regional Championship is a USFF sponsored event, held at the Wildwood Convention Center, located directly on the Jersey Shore. The tournament features teams of 12, ages 10 and older, engaged in two days of fast paced competition; the winner to be crowned the Northeast Regional Champions.
Based in Salt Lake City, Utah - The team at SnapSports have been engineering, manufacturing, and providing the world's leading outdoor multi-courts, basketball courts and modular sport surfaces for nearly four decades! As the pioneers of the modular sports surfacing industry you play on today, the SnapSports team continues to develop the most advanced, multi-patented, modular sport surfacing and outdoor game courts for top athletes and families all over the world. With unparalleled experience and a high performance product line, SnapSports is the industries undisputed champion. SnapSports manufactures in their 100,000+ square foot ISO 9001:2008 Quality Certified facility 24x7 and is supported by an authorized global network.
SnapSports is the official sport surface provider for the United States Futsal Federation (USFF), AAU Basketball 'Jam on It', Volleyball Festival, Special Olympics, AAU Basketball 'All Under One Roof', Veteran Wheelchair Games, Colorado Crossroads, National Collegiate Roller Hockey Championships, AAU 'Big Mountain Jam' and USA Team Handball.
In addition, SnapSports is an approved partner of the IHF and SnapSports is an official FIBA Technical Partner, the worlds governing body for the sport of basketball
Contact:
Camila Grover
SnapSports, Inc.
2330 California Avenue
Salt Lake City, UT 84104
(801) 746-7555