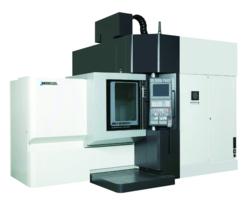 "The MU-6300V is a true workhorse machine that is able to take on the toughest materials with its dual-driven rotary trunnion design"
Charlotte, N.C. (PRWEB) February 08, 2013
Okuma America Corporation, world-leader in CNC machine tool manufacturing, offers an expansive line of vertical machining centers that provide reliable machining meeting a variety of production needs. Okuma's new MU-6300V is no exception as it delivers high efficiency and high-productivity for 5-axis, multi-sided machining.
This CNC vertical machining center has a highly rigid and accurate double column structure and low center of gravity in workpiece movement (trunnion table) that enable both heavy duty cutting and high speed finishing. Built on Okuma's Thermo-Friendly structure, this machine performs consistently from the first part to the last, regardless of warm up time or ambient temperatures.
"The MU-6300V is a true workhorse machine that is able to take on the toughest materials with its dual-driven rotary trunnion design," says Kyle Klaver, 5-axis Product Specialist, "and would be a great fit for any industry looking to add a high efficiency, 5-axis machining center especially the aerospace, automotive, and medical industries".
The MU-6300V was recently honored with the Nikkan Kogyo Shimbun's (Business and Technology Daily News) 2012 Best 10 New Product Awards. The Best 10 New Product Awards are given to selected products for their contributions to the development of manufacturing and strengthening of Japan's international competitiveness. Winners are chosen from among all products developed and in practical use in a given year.
For more information on the MU-6300V, visit http://www.okuma.com/mu-6300v.
About Okuma America Corporation:
Okuma America Corporation is the U.S.-based sales and service affiliate of Okuma Corporation, a world leader in CNC (computer numeric control) machine tools, founded in 1898 in Nagoya, Japan. The company is the industry's only single-source provider, with the CNC machine, drive, motors, encoders, spindle and CNC control all manufactured by Okuma. Okuma's innovative and reliable technology, paired with comprehensive, localized service protection, allows users to run continuously with confidence – maximizing profitability. Along with its industry-leading distribution network (largest in the Americas), and Partners in THINC®, Okuma facilitates quality, productivity and efficiency, empowering the customer and enabling competitive advantage in today's demanding manufacturing environment. For more information, visit http://www.okuma.com or follow us on Facebook or Twitter @OkumaAmerica.
About Partners in THINC:
Partners in THINC is a collaboration network of more than 40 industry leaders who come together to solve problems and explore new productivity ideas for real-world manufacturers. With the open architecture, PC-based THINC®-OSP control as its nucleus, Partners in THINC brings specialized equipment, expertise and a commitment to provide the best possible integrated solutions to the end-user. For more information, visit http://www.okuma.com/partners-in-thinc
###
Photo included: MU-6300V.jpg