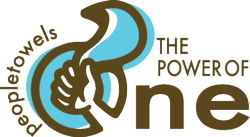 Monterey, CA (PRWEB) February 11, 2013
PeopleTowels©, the pioneer in reusable personal hand towels, the sustainable, on-the-go alternative to paper towels announces the results from its annual Sustainable Living Survey. Data was collected through online responses from a nationwide sample of 560 respondents including both PeopleTowels' customers and non-customers.
"Consumers are clearly concerned about environmental issues and are adopting personal habits to mitigate these issues" says Mary Wallace, Co-Founder, PeopleTowels. "Government and businesses have been slow to act. As a result, we see a trend towards individuals accepting personal responsibility for their actions, be it waste or one's carbon footprint. We call this The Power of One and recently launched a campaign where each month we celebrate the 'environmentalist next door'."
Survey findings of note include:

For respondents, 'green' is not trendy, but an imperative. The top reasons identified for 'going green' – fed up with excess waste (87%), safe food (66%), global warming (64%), and clean oceans (62%). Only 4% identified friends or peer pressure as a reason to adopt 'green' behaviors.
Believing that individual actions can make a difference, 93% recycle, 86% have switched to reusable water bottles, 85% use cloth shopping bags, 73% have switched to CFL bulbs and 69% use organic cleaning products. Though a relatively new behavior, 47% have adopted PeopleTowels as an alternative to paper towels on-the-go.
Despite the high percentage of people adopting sustainable habits such as recycling and CFL bulbs, 64% of the respondents say that they will continue to make additional changes because environmental issues are important to them and their family.
Only 8.3% drive a hybrid or electric car, supporting the single most important factor impeding a 'green' purchase, perceived higher prices for 'green' products (80%).
As research has demonstrated, conscious consumers are influencers. A full 98% recommend products to friends (54% frequently, 44% sometimes). The self-identified span of influence is 1-5 people (64%) and 5-15 people (20%.)
###
PeopleTowels, LLC. introduced the first sustainable alternative to single use, disposable paper towels outside the home. Made of 100% organic and Fair Trade cotton, they are compact and lightweight, yet absorbent. The average adult uses over 3000 paper towels outside the home each year. Switching to a reusable option like PeopleTowels is one way to significantly reduce solid waste and needless use of natural resources. For more information, to set up an interview or to request samples, please contact us at media(at)peopletowels(dot)com.