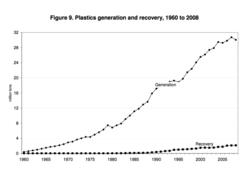 Kunkletown, PA (PRWEB) February 08, 2013
Recently, the EPA imposed a fine on Formosa Plastics Corp. USA in Victoria, Texas. According to Plastics News, the fine was in response to over 8,000 pieces of leak detection and repair equipment at its plastic and chemicals plant in Point Comfort.
As the EPA continues to do its part in environmental protection, Rita Lacey of Close the Loop Company, says there are more issues that should be addressed in the area of plastics recycling management.
"When it comes to issues outside of chemical plants, one of the major issues that needs to be addressed is marine debris," she pointed out. "There is, currently, six times the amount of plastic than plankton in the Pacific Ocean Gyre. The sea life is ingesting the plastic as it enters the ecosystem, and the plastic is getting deposited on distant shores. Things like hormone disruption, death by ingestion, and PCB contents in birds are still major concerns."
The problems don't only sit with the lower echelons of the food chain. Rita continues, "The human issues, I feel, are being ignored for the most part. Plastic is entering our food chain in the form of humans eating fish that have ingested plastic pollution. Consumer education and increased communication about returned and recycling plastics; including labeling and producer responsibility, are needed."
Rita goes on to outline the issues that surround MRF (Material Recovery Facility). One of her complaints is that the US is shipping more than half of its recycled PET plastic to China and overseas.
"Why aren't the MRFs selling these plastics to the US manufacturers? They need and want this raw material, but cannot get their hands on it."
Concern also stems about a more efficient way of sorting these materials, and how transparent the relationship is between the MRFs and the US manufacturers.
"I think a smart, and cost-effective solution would involve recycling on-site at landfills to sort, grind, and re-sell the plastic raw material to the manufacturers. On land, stocks of recycled plastics are much too small to feed production of sustainable plastic products. The main barrier to using more recycled plastic in products is the scarce and uncertain supply of recycled raw material. Developing applications for using waste plastic in bulk, by grinding up many types of waste plastic, and not having to go through the expense of cleaning raw material for use in plastic asphalt would benefit us in the same way it has in India, and recently in Vancouver."
With a dedication to helping preserve the environment, and a desire to help others who are also committed to this goal, Close the Loop was established in October, 2000 to offer recycled products made in USA from state-of-the-art recycling of plastic scrap and waste wood fiber used as a non-wood alternative building material for the fencing and plastic lumber market including: recycled plastic fencing, posts, rails, vineyard poles, composite lumber. They also offer glass mulch, rubber mulch, rubber landscape timbers, and more.
For more information, please visit http://www.closetheloop.com.