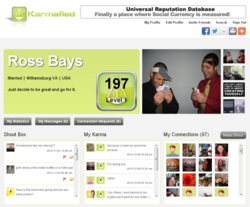 Moment by moment, every day, you're earning your Human Score...
Williamsburg, Virginia (PRWEB) February 11, 2013
(Williamsburg, Virginia, Feb. 11, 2013) --- There's an old adage that says, "You reap what you sow," and according to the creators of a new type of social network called Karmafied, now there's a way for anyone to report and track the 'Human Score' of everyday people.
"This new level of social media is not based on influence like other sites," says Karmafied Managing Director Ross Bays. "This is more personal. Our goal is to prove that despite the horrors that we see sensationalized in the media, when it really comes down to it, the human race is full of amazing potential."
Karmafied, according to Bays, allows people to score their interactions with others. On the homepage, the message reads clear, "We are the movement that is taking matters into our own hands; to instill change in the world simply by being the change we want to see. It's not about money, politics, or religion. It's about us..."
"When you go out of your way for someone, or you just brighten someone's day in some way, that's social currency and it has a value," Bays stresses. "Finally we can track that, and the beauty of it is that its values are entered by the people you encounter, in person or online."
The launch of Karmafied could prove to be a perfect fit with current trends, where employer searches are on the rise, not only in the US, but across the globe.
According to a recent study conducted by Harris Interactive, 45 percent of the 2,667 Human Resources professionals surveyed admitted to using social networking sites to research perspective employees. An additional 11 percent planned on implementing social media screening in the very near future.
"In keeping with current trends, Karmafied is a new site which finally measures Social Currency for users on a personal level," Bays points out. "This isn't just about businesses, which can also create profiles, but about letting people be reviewed by those they interact with, the same way businesses are. Why shouldn't people be allowed the same luxury?"
Tina Young, 37, of Houston, says she gives Karmafied's social movement two thumbs up. "There are some really great people walking the earth, so it's nice to be able to see all the good that they do."
As to who Karmafied is designed for, Bays noted that it's for virtually anyone.
"I am a strong advocate of self-reevaluation," Bays says, before adding, "and people letting me know what I am doing right or wrong will help me improve. Even when I am out in public I am receiving Karma since we launched the apps; it really makes you think about how you present yourself."
Bays stresses that Karmafied isn't about adding up good and bad points; it's much deeper than that.
"This is almost on a cellular level, if you think about it," Bays says. "Imagine the user with a very cynical outlook on life. What kind of energy are they releasing into the world? And what do you think comes back to them? On the other end of the spectrum, imagine how good you feel when you receive Good Karma for a gesture you thought went unnoticed. Moment by moment, every day, you're earning your Human Score and now it's tracked."
###