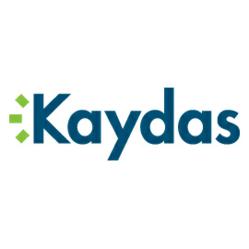 Dan Bornholdt, President of Green Suites Hotel Solutions states, "This is the classic Green Suites product — better lighting for guests, greater efficiency for the environment, sensational savings for the hotels"
Beaverton, OR (PRWEB) February 14, 2013
Leveraging its targeted LED lighting portfolio, technical support and expertise, Kaydas has announced a newly formed partnership with Green Suites Hotel Solutions to be the exclusive provider of LED lighting solutions for its customers. Under the agreement, Green Suites Hotel Solutions has been provided a proprietary online web portal, where its customers can specify and buy any of the Kaydas ultra-low-energy, long-life LED light bulbs. To gain access to the purchasing portal, hotel customers need only visit http://www.greensuites.com/kaydas.
In an effort to expand in the innovative and growing LED technology, plus further its commitment to providing high-quality, sustainable products, Green Suites Hotel Solutions believes its new offering o f Kaydas LED lighting will be an in-line enhancement for its 4,000+ hotel customers who continue to seek products that deliver both environmental and economic advantages.
Dan Bornholdt, President of Green Suites Hotel Solutions states, "This is the classic Green Suites product — better lighting for guests, greater efficiency for the environment, sensational savings for the hotels. For more than 10 years, we, and thousands of our customers, have been watching and waiting for the pricing of LED bulbs to drop to a point where they can deliver a sensible ROI. Kaydas has just made that happen."
Says Bret Larson with Clise Hotel Groups, "We have been working with Green Suites and Kaydas on evaluating LED lighting for our hotel. Clearly the Omni Directional LED bulbs for our guest rooms, and the LED PAR Lamps for our bar and restaurant, are great products. Kaydas and Green Suites have been responsive, proactive and easy to work with."
For its part, Beaverton, Oregon-based Kaydas has committed itself to portfolio of LED lighting solutions that focuses on "quality over quantity." Says Akshay Gupta, Founder of Kaydas, "In the face of seemingly endless and often confusing offerings of LED light bulbs, our product line has been distilled down to extremely relevant, useful and effective LED light bulbs."
Gupta concluded, "In the Hotel industry, where the cost of lighting is no small matter, we are extremely pleased to support Green Suites in its endeavor to help its customers become more energy efficient and subsequently more profitable. Helping rid hospitality environments of toxic, mercury-laced Compact Fluorescent Light Bulbs (CFLs), lowering energy consumption and enabling tremendous cost savings is truly a win-win situation for Green Suites Hotel Solution and its many satisfied customers."
About Kaydas
Kaydas is a company with a deep passion for, and belief in, the environmental and economic benefits of Sustainability — consuming less, consuming wisely and minimizing waste. Yet, contrary to popular belief, sustainability is not a call to live some sort of alternative lifestyle. It's really as simple as changing a light bulb. LED lighting is all about consuming less energy, and subsequently paying for less energy, over the ultra-long life of LED bulbs. And unlike those so-called "green" CFL Bulbs, LED bulbs do not introduce toxic mercury into your home or business environments. Less energy consumption, lower power bills, less bulbs in our landfills and eliminating the toxic technology of CFL bulbs — yeah, it's as simple as changing a light bulb. In our highly-scrutinized portfolio you'll find the products well suited for the most common fixtures in today's homes and businesses, including omni-directional bulbs that look and behave like their incandescent counterparts, plus low-energy, long-life LED solutions for ceiling cans, track lighting, lamps, pendants and more.
If you are interested in representing or re-selling Kaydas light bulbs, we offer some very flexible and innovative ways to generate revenue. Kaydas is also very passionate about helping worthy non-profit organizations raise money through our unique and powerful Fundraising Program. You can learn more about our Sale Rep. Program and Fundraising Program by emailing sales(at)kaydas(dot)com
About Green Suites Hotel Solutions
Based in Upland, CA, Green Suites Hotel Solutions was founded in 1993 and assists hotels in the "greening" of their properties through the implementation, installation and development of environmental products and programs. Facilities reaping the benefits from Green Suites Hotel Solutions include over 4,000 hotels in 50 states and 45 countries. Such products include natural amenities delivered from elegant dispensers, the Project Planet linen- & towel-reuse program, non-toxic cleaners and energy and water efficient products. For more information visit http://www.greensuites.com, call (800) 224-4228 or email sales(at)greensuites(dot)com.