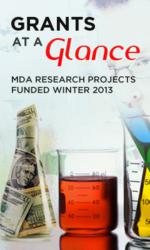 "Many of the new projects stand to have a great impact on the state of science — not only in a single disease category but for many of the diseases under MDA's umbrella."
Tucson, Arizona (PRWEB) February 07, 2013
New drug development, greater understanding of disease processes and more efficient diagnosis of neuromuscular diseases are the focus of the Muscular Dystrophy Association' s latest round of grants.
MDA awarded 44 grants totaling more than $13 million, most of which took effect Feb. 1. The grants encompass a range of diseases covered by the Association, and include innovative approaches to basic research and drug development, which may open new avenues for possible therapeutic treatments.
"We're excited to award a set of grants covering such an important and comprehensive range of topics in the field of neuromuscular disease research," said MDA Vice President of Research Jane Larkindale. "Many of the new projects stand to have a great impact on the state of science — not only in a single disease category but for many of the diseases under MDA's umbrella."
Some of the projects funded by the new grants will focus on understanding the relationship between specific genetic mutations and disease manifestations. While MDA-funded research has made tremendous advances in identifying genes and genetic defects that relate to neuromuscular diseases, there are still unanswered questions about how those genetic defects cause specific disease characteristics.
In the effort to identify new therapeutic targets, several of the grants will fund early-stage testing of specific therapeutic hypotheses. Results from such studies could lead to the testing of new or existing drugs, or to the identification of new drug targets for nerve and muscle diseases.
This round of grants also includes research into the physiology that underlies many neuromuscular diseases. Several grants also relate to the process of degeneration and regeneration of muscles, nerves and membranes. Most of the diseases in MDA's program are degenerative, either because the underlying process causes nerve or muscle damage, there is impaired regeneration, or both. These studies will look for the mechanisms that regulate these processes and for methods to tip the balance in an effective direction.
In MDA's ongoing support of creating better diagnostic tools for neuromuscular diseases, some of the new grants focus on development of better screening techniques, including newborn screening technology for Duchenne muscular dystrophy.
MDA is committed to ensuring the future of neuromuscular disease research. To that end, five new grants are career development grants designed to increase the number of scientists dedicated to this field. Also included are two clinical research grants, which provide promising young clinicians with training opportunities needed to become clinical investigators.
For up-to-date information on the latest MDA-funded research projects, see Grants at a Glance, a slideshow featuring the new MDA grantees and their research. Also read: $13.6 Million in New MDA Grants Promote Understanding, Treatment of Neuromuscular Diseases and Grants Support Study of New Genes, New Drug Discovery Strategies for ALS.
MDA's Board of Directors reviewed and approved the new grants at its December 2012 meeting, based on recommendations from the Association's Scientific and Medical Advisory Committees.
MDA currently is funding more than 250 active research grants.
About MDA
MDA is the nonprofit health agency dedicated to finding treatments and cures for muscular dystrophy, ALS and related diseases by funding worldwide research. The Association also provides comprehensive health care and support services, advocacy and education.
In addition to funding more than 250 research projects worldwide, MDA maintains a national network of 200 medical clinics; facilitates hundreds of support groups for families affected by neuromuscular diseases; and provides local summer camp opportunities for thousands of youngsters living with progressive muscle diseases.
For more information, visit mda.org and follow MDA on Facebook (facebook.com/MDAnational) and Twitter (@MDAnews).