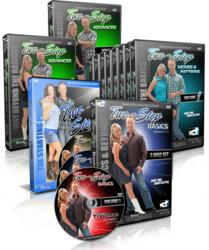 Shawn's DVDs are so detailed and thorough that it would be almost impossible not to be able to learn from them
Clearwater, FL (PRWEB) February 07, 2013
Everyone knows Two-Step is a fun and upbeat dance every country music fan should know and knowing how to dance the Two-Step allows endless nights of dancing at the hottest country nightclubs. Until now, dance instruction on Two-Step has been very limited and hard to find, especially for beginners.
Problem solved. With Dance Videos Direct's release of 14 new DVDs in the Two-Step Mastery System, Shawn Trautman gets beginners dancing quickly with fun, easy-to-follow, step-by-step instructions on everything they need to know to about Country Western Dancing. Whether they want to figure out how to survive a basic step, spice up their moves a bit, or even burn the floor with never-before-seen advanced lead-and-follow combinations, this unique Mastery System has just the right speed of lessons.
Shawn Trautman is a proven instructor with students around the world singing the praises of the Shawn Trautman Instruction method. The secret to his students' success is Shawn's well-known knack for making the basics, nuances, leads, and turns that make dancing fun and simple enough all of us can grasp them. In the words of one of Shawn's students:
"…Quite frankly, Shawn provides the best and most comprehensive instruction of anyone I've seen. Shawn's DVDs are so detailed and thorough that it would be almost impossible not to be able to learn from them…" – E. Adams, Wisconsin
Gathering knowledge and applied experience from more than 20 years of teaching into 14 phenomenally successful DVDs, Shawn created the Country Two-Step Dance Lesson Mastery System, the confident Two-Stepper's Best Kept Secret.
If someone is new to the country scene and knows this is the dance they want look good dancing, the'd need to start with the BASICS. This 3 DVD set launches the Two-Step Mastery System and has everyone dancing along in minutes. The lessons ease the viewers into the world of country partner dancing one easy-to-follow step at a time. From there, the Moves & Patterns Series (8 DVDs) takes leaders and followers through an incredible assortment of leadable two-step moves for the dance floor. Advanced dancers will benefit from the two Advanced DVDs that cap off the System.
The country dance floor is a wild place for people who don't know the rules of the road. Learn how to dance the two step from the best while increasing confidence and have dancing success with Shawn Trautman's Country Two-Step Mastery System.
The Dance Videos Direct label develops and produces dance lessons for people who want to learn to dance ballroom, country, swing, and West Coast Swing. Founded as an alternative to traditional ballroom dance instruction, Dance Videos Direct has reinvented the way people learn dancing and has produced and released over 75 DVDs from it's studio in Clearwater, FL. For media inquiries, more information on available titles, or to learn more about Shawn Trautman Instruction, call 727-738-1145 or visit Dance Videos Direct.