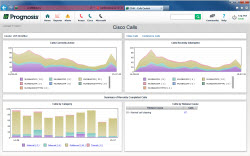 Customers can be assured of Prognosis VoIP Monitor's interoperability within their Cisco UCM 9.0 environment.
Sydney, Australia (PRWEB) February 09, 2013
To take advantage of the benefits of the expanding role of the network, Integrated Research (IR) today announced that its Prognosis VoIP Monitor 4 solution has successfully completed interoperability testing with Cisco Unified Communications Manager 9.0.
Prognosis VoIP Monitor 4 provides real time voice quality management for Cisco customers with up to 5,000 phones whether in a single or multi-vendor environment, ensuring improved call quality, service reliability and proactive issue resolution. With a brand new tablet-friendly user interface and native iOS App, Prognosis First Responder, voice administrators are empowered to manage voice quality whether in the office or on the move.
Prognosis VoIP Monitor 4 complements IR's enterprise-level management solution, Prognosis for Unified Communications (UC), which enables organisations of any size to manage UC applications and devices, in addition to voice quality across multiple vendors and technologies.
"Cisco Interoperability Verification Testing validates the compatibility of IR's performance management software and means customers can be assured of Prognosis VoIP Monitor's interoperability within their Cisco UCM 9.0 environment," said Mark Brayan, CEO, Integrated Research. "This verification complements IR's existing Cisco-compatible Unified Communications and Collaboration solutions."
The Cisco Developer Network unites Cisco with third-party developers of hardware and software to deliver tested interoperable solutions to joint customers. As a Registered Developer, Integrated Research offers a complementary product offering and collaborates with Cisco to meet the needs of joint customers. With offerings such as Prognosis VoIP Monitor 4, customers can more quickly deploy a broad range of Cisco Compatible business applications, devices, or services that can enhance the capabilities, performance, and management of their Cisco network.
For more information on Prognosis VoIP Monitor 4 interoperability with Cisco Unified Communications Manager 9.0, please visit: https://marketplace.cisco.com/catalog/products/2998.
About Integrated Research:
Integrated Research (IR) is a leading global provider of high-definition performance monitoring, diagnostics and reporting software. The creator of award-winning Prognosis®, IR builds scalable, customizable solutions designed to manage continuity-critical IT infrastructure, payments and communications ecosystems. IR provides real time solutions that give customers the insight they need to run their business, reduce their operating costs, minimize risk, and gain competitive advantage. For further information on Integrated Research, please visit http://www.ir.com

Interoperability testing is designed to simulate typical customer configurations, and does not replace the need for on-site testing in conjunction with actual implementation.