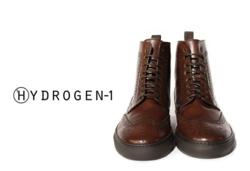 San Francisco, CA (PRWEB) February 09, 2013
Once just for sports, sneakers have become footwear for any casual occasion. Now, as office wear gets more relaxed, it's time for sneakers you can wear at work – or anywhere. Hydrogen-1 introduces that next breakthrough: crossover men's sneakers for all day wear. Hydrogen-1 is the fundamental element of style, combining premium Italian leather with sneaker comfort and practicality.
Men want to look and feel good in and out of the office – but don't want to have to change shoes. Guys heading out with friends after work don't need a shoe change. Their versatile Hydrogen-1 sneakers feel right for either occasion. Unlike fancy, multi-colored styles from leading sneaker brands, Hydrogen-1 sneakers can go from smart to casual, and everything in between.
Hydrogen is the simplest, most fundamental element, easily combined with many others. Hydrogen-1 offers sneakers with similar qualities: the fundamental element of style. Remove unnecessary details and what is left is a clean, effortless look, right for the times and never overdone.
Hydrogen-1's initial collection can be seen at hydrogen-1.com, with two lines including twelve different styles. For the suit-and-tie guy, the classic line includes styles such as Oxford, Chelsea, and Wingtip. For the khaki-and-jeans guy, the urban line comes in high, mid, and low cut styles.
The company's initial launch is being funded through Kickstarter. To go ahead, the company must raise 100% of its goal by midnight on February 28th. Customers wanting to help make the shoes a reality can pre-order their own pair – at discounts of up to 30% off the cost after the Kickstarter. Please click on Hydrogen-1 Kickstarter.