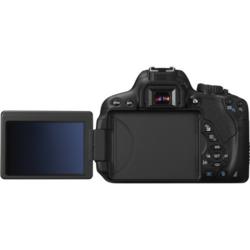 On the first day a new student arrives at The Film School, we will be giving them his or her very own HD camera to keep.
Santa Fe, NM (PRWEB) February 11, 2013
The Film School at Santa Fe University of Art and Design(SFUAD) announced a new program that gives every new incoming film student a professional-caliber Canon T4i digital single-lens reflex (DSLR) camera with a premium 18-135mm zoom lens. The initiative, called "Camera in Every Hand" is one of several initiatives for students in the Film School.
"On the first day a new student arrives at The Film School, we will be giving them his or her very own HD camera to keep," said Chris Eyre, chair of The Film School at SFUAD. "Not only do we teach our freshmen to make movies, but we give them the hands-on experience that is essential for success in the film industry. Through this unique program, our students can shoot film whenever inspiration strikes."
In addition to Camera in Every Hand, The Film School at SFUAD is also implementing several unique initiatives that enable students to not only develop critical skills learning directly from industry professionals, but also to have access to hands-on internships on Hollywood sets through the soundstages at SFUAD's Garson Studios. For example, students have interned on commercial productions at Garson Studios such as Legion; Cowboys & Aliens; Bless Me, Ultima and Haywire, and most recently the set of A&E's hit show, Longmire.
About 120 film students recently had the opportunity to make films with leading screen actors as a part of the university's inaugural Shoot the Stars program. In addition to writing the scripts, students worked closely with top Canadian independent film and TV actor Luke Kirby (Take This Waltz, also starring Michelle Williams and Seth Rogan) and actor Wes Studi (Avatar, The Last of the Mohicans, and Dances With Wolves), both of whom took on the lead roles in the two student-directed and produced films. The scriptwriting process for this year's Shoot the Stars is currently underway.
The school also recently announced that leading industry professionals joined an Advisory Board for the Film School in 2012, including Emmy award-winning Kirk Ellis (best known for writing the HBO miniseries John Adams), Kathleen Broyles (program coordinator for feature films at the Sundance Institute and liaison to Sundance founder Robert Redford), Jaime Paglia (writer, producer and co-creator of the TV show Eureka for Syfy and NBC Universal), and Oscar-nominated John Stevenson (director of Kung Fu Panda, artist for Shrek, Madagascar and many other animated features). The Board will participate in campus workshops and lectures and engage with students as they pursue their education.
About The Film School at SFUAD:
The Film School at Santa Fe University of Art and Design offers a comprehensive, hands-on, four-year curriculum that integrates film, video and digital production with critical studies and writing. Films such as True Grit and Cowboys & Aliens and TV dramas such as Longmire have been shot at the university's Garson Studios, where students have the opportunity to intern on professional productions. Garson Studios is part of the Garson Communications Center, which features a 65,000-square-foot production and postproduction facility. The Screen, a popular destination within the Garson Communications Center, shows some of the greatest works of world cinema daily for students and the public.
About Santa Fe University of Art and Design:
Santa Fe University of Art and Design is an accredited institution located in Santa Fe, New Mexico, one of the world's leading centers for art and design. The university offers degrees in arts management, contemporary music, creative writing, digital arts, graphic design, film, performing arts, photography and studio art. Faculty members are practicing artists who teach students in small groups, following a unique interdisciplinary curriculum that combines hands-on experience with core theory and prepares graduates to become well-rounded, creative, problem-solving professionals. As a Laureate International Universities Center of Excellence in Art, Architecture and Design, the university boasts an international student body and opportunities to study abroad, encouraging students to develop a global perspective on the arts. Santa Fe University of Art and Design is accredited by The Higher Learning Commission and a member of the North Central Association, http://www.ncahlc.org.
# # #