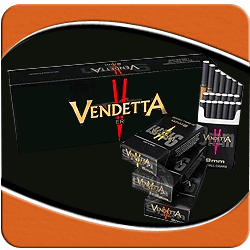 Miami, FL (PRWEB) February 09, 2013
Vendetta Little Cigars will be discounted for one week only. For customers who have never tried a Vendetta Little Cigar, this is an opportunity for smokers to test a new product at an attractive price. The sale will start on February 9th, 2013, at the online store TrueTobacco.com
This cigar is perfect for a flavored smoke break after lunch or in between meetings. The choice of flavors offers variety for all occasions and proves Vendetta to be the leader in little cigars. Easy to light, easy to draw and conveniently packaged in a hard case, this cigar is perfect for every day use.
Vendetta Little Cigars come in Seven distinct flavors providing an enjoyable smoking experience for any cigar lover at any time. The choices listed below offer smoker the full experience of Vendetta:
Full Flavored
Vanilla
Chocolate
Peach
Berry
Honey
Menthol
The Vendetta Little Cigar is a filtered, short cigar sold in a hard pack of twenty cigars. A carton is sold with ten 100 mm hard packs. Each 18 gauge cigar measures 3 1/2 inches in length and is wrapped in a homogenized wrapper.
Cigar aficionado's around the world turn to the Vendetta Little Cigar for a great short smoke at any situation where time is a factor.
Remember to mark your calender for the blow out sale on February 9th, and make sure to log on to http://www.truetobacco.com/product-category/cigars/cheap/little/vendetta-little-filtered-cigars/
True Tobacco is dedicated to 100% customer satisfaction by offering:

Free shipping on orders of $200
Lowest Prices on Market Fresh Products
Friendly Customer Support
True Tobacco's website is designed for easy navigation to find the products customers are looking for with little effort. Filters and Comparison features provide a user friendly experience and ensure that anyone can find the right cigar for any occasion. The website is 100% secure and True Tobacco offers a 100% satisfaction guaranteed. Fast delivery, friendly service, fresh products and low prices.