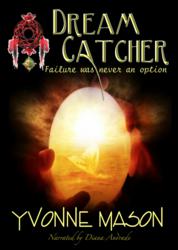 Yvonne Mason is a terrific writer and when she brought us "Dream Catcher: Failure Was Never An Option" I knew that it would be the perfect book to showcase the potential that enhanced eBooks offer the literary community
Evergreen, Colorado (PRWEB) February 11, 2013
Brook Forest Voices (BFV), audiobook producer and publisher, has taken "Dream Catcher: Failure Was Never An Option" and converted it into a full featured enhanced eBook. Now enjoy Yvonne Mason's inspirational story about her brother, Stan, a challenged child born in the early '50's, complete with audio, video and photos.
Yvonne Mason has written numerous novels, but none with the passion and investment of "Dream Catcher: Failure Was Never An Option". In the years leading up to the 1950s, there were no resources for the challenged. They were placed in asylums or back rooms and left to die. They were never talked about or wanted. They were the silent children. The children no one wanted. The children who were never given a chance to live. In "Dream Catcher" Yvonne Mason tells the uplifting story of Stan, her brother, who was not put away, not shunned and not ignored. With the love and support of his family, Stan did succeed. As an enhanced eBook "Dream Catcher" allows the reader to completely appreciate Stan's experience via reading, listening, video clips and still photos.
About Brook Forest Voices: a complete audio production studio located just west of Denver in Evergreen, CO, specializing in audiobook narration, production and publishing. BFV is designed to help large and small publishers, as well as authors, with all their audio needs. Publishers and authors wanting to learn more can visit http://www.brookforestvoices.com or contact Jaime Andrade, BFV Business Manager at 303-670-4145.