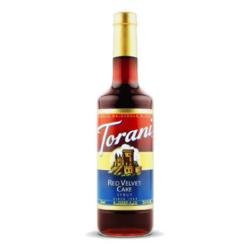 Toronto, ON (PRWEB) February 07, 2013
Want to enjoy a dessert for breakfast? Now you can. Indulge in delicious Red Velvet Cake, or Cupcakes - in the form of flavoured syrups that can be added to your morning coffee or latte. Torani's line of premium flavoured syrups are used in national chain coffee shops and independent cafes alike across North America.
While a bottle or two can be found in retail stores here and there, having access to the full line is sometimes difficult without buying from the U.S. The addition of the Red Velvet Cake syrup and the Cupcake syrup brings even further choice to Canadians, adding to the over 80 flavours currently available. Far from just flavouring coffees, the Torani syrups can be added to sparkling or mineral water to create Italian Sodas.
Those who enjoy making Italian Sodas right at home will be happy to discover that hard-to-find flavours in Canada are now available. The Blackberry syrup is now in stock, along with Torani's Green Apple syrup, Root Beer syrup, Huckleberry syrup, Cassis syrup (the replacement for the now-discountinued Black Currant), Hibiscus syrup, and finally Guava syrup. This unprecedented access to fresh, fruity flavours ensures a never-ending supply of something delicious to serve family and guests.