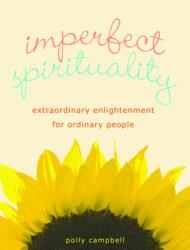 Thanks to Polly Campbell for this delicious treatise on the perfect state of imperfection. We can be at peace with where we are—in our lives, in our messes, in our moments. That's where perfection lies.
—Janet Conner, author of Writing Down Your Soul
(PRWEB) February 08, 2013
Polly Campbell's newly released book, Imperfect Spirituality, has lit up the blogosphere, bookstores, and radio with the message of self-acceptance and help in identifying what we all need to let go of in order to overcome anxiety and stress in our lives. It was also the number one selling nonfiction paperback as Boswell Books last week.
As Polly Campbell says in Imperfect Spirituality, "We invest time and put our attention on fixing, changing, avoiding, denying, and hiding our imperfections to match some contrived cultural expectation, rather than living from what's right and true for us. Let's do it differently. It's time to shift our focus and energy from what's wrong with us to what is right within us."
Polly's Upcoming Events:
2/12/13: Drishti Point Yoga Radio, 5-6pm PT
2/20/13: Soul Journeys Radio, 5-7pm PT
2/28/13: Barnes and Noble, Valley River Center, Eugene, OR - 7-9pm
3/20/13: Walking with Spirit Radio, 6-7pm PT
4/1/13: Mind Over Matters Radio, 1-2pm PT
6/15/13: Exploring Unexplained Phenomena, 8:50-10:30am PT
About the Book:
According to author Polly Campbell, our practices may be imperfect, but our souls never are. Real-life moments sometimes provide the only opportunity for spiritual growth in a day. IMPERFECT SPIRITUALITY: Extraordinary Enlightenment for Ordinary People shows readers how to integrate those every-day moments with traditional spiritual techniques to experience personal growth and greater well-being all in the course of your regular routine.
About the Author:
Polly Campbell is a writer and speaker specializing in personal development and spirituality topics. Her work appears regularly in national publications, and she is a blogger with Psychology Today, teacher for Daily Om, and at Imperfect Spirituality http://imperfectspirituality.com/. For more than two decades, she has studied and applied the techniques she writes and speaks about to her own life. Polly is also a multi-tasking wife and mother, an avid player of Candyland, a forever fan of University of Oregon Duck football, and a reader of personal development and spirituality books from her home in Beaverton, OR.